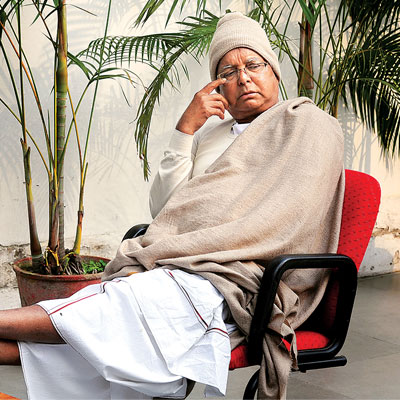 RJD chief Lalu Prasad will give in to Congress' demand for more seats in Bihar to keep BJP and its prime ministerial candidate Narendra Modi out of the picture.
In fact, he regrets giving Congress only four seats during the 2009 Lok Sabha elections. It was a "mistake", he said while speaking to dna in an exclusive interview.
"Number of seats is not an issue for us. They [Congress] are demanding more because they know I am there to support them against the rise of communal forces," Lalu said. "We have to salvage the country first."
He went on to add that Congress is an all-India party. "Everybody is talking of Congress rahit bharat. I am the only one talking about Congress sahit bharat. It is not a matter of seats. We have to unite for bigger goals."
Ever since Congress ditched Bihar chief minister Nitish Kumar and allied with RJD a month back, seat-sharing talks have been a matter of contention between both parties. Congress wants at least 24 out of the 40 seats in Bihar from RJD, out of which it wants to give some to Lok Janshakti Party. This will leave RJD with only 16 seats.
But why does Congress want so many seats when it has barely a presence in the state? "That is because they have faith in Lalu's commitment to Congress," Lalu said.
But top-rung leaders are unhappy with the arrangement. They feel RJD should have at least 18-22 seats.
In 2009 too, both parties failed to agree on the number of seats and contested the polls by themselves.
"In the last election it was our mistake and also our partner's. Congress wanted only four but we did not agree... Will they not feel insulted? But let bygones be bygones," he said. "Congress is an all-India party and it has to appreciate that we both need to join hands to tackle the rise of communal forces in the country."
Whatever be the results, RJD will remain committed to Congress, Lalu said. "I do not change my stand every day."
Speaking about Nitish Kumar, he said: "Nitish is not a factor... People claim he has gone beyond Barack Obama. If that is so, why does he want special status for Bihar?"
He ruled out any chances of third front coming to power. "People are bothered only about first and second. Nobody bothers about the person who stands third."
"Both parties [Cong, RJD] realised the need to come together to defeat communal forces," Digvijay Singh, Congress
What others have to say
"Bihar voters don't want Rahul Gandhi as PM. Lalu's been advocating Gandhi's name. Going with Congress is Lalu's compulsion," BJP's Sushil Modi said. "There are so many cases against him; he feels secure under Congress umbrella."
"Congress-RJD alliance shows all anti-corruption talks of Congress are fake. RJD chief Lalu is corrupt... This exposes Congress," a senior AAP leader said.