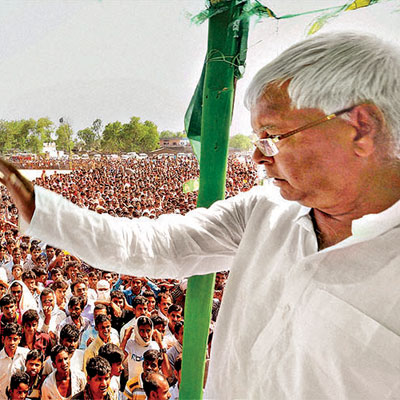 Champion of social justice in Indian politics -- whose USP has been uplift of the poor and backward – is now seen wooing the middle class in the run up to the upcoming Lok Sabha elections. A day after Bihar chief minister Nitish Kumar Kumar promised job quota in private sector, RJD supremo Lalu Prasad promised reservation for the upper castes, while announcing the party manifesto on Sunday.
Releasing the manifesto, Lalu said the party will bring reservation for the upper castes. The modalities will come out once the party comes to power. In the manifesto, Lalu also promised a proper implementation of the Sachar Committee recommendations. Raising concerns on the charges of harassment on youth belonging to the minorities on charges pertaining to terrorism. Unemployment allowance is another big promised made by the RJD supremo.
He also promised that the pending railway projects that were announced during his tenure as the railway minister will also be expedited. As the railway minister Lalu had announced a slew of projects in Bihar at Madhepura and Chhapra.
Even as he tried to entice the upper caste voters -- who will probably vote for BJP -- Lalu took on Narendra Modi. Rephrasing the Har har Modi, ghar ghar Modi slogan, he said the slogan should actually be Thar thar Modi, garbar Modi (Shivering Modi, wrong Modi).
Meanwhile¸ the JD (U) has promised reservation for SCs, STs and OBCs in the private sector. The party also called for 50 per cent reservation for women in panchayats and local bodies - a move aimed at creating power centres at the ground level. The party has also called for zero tolerance against corruption and communal violence.