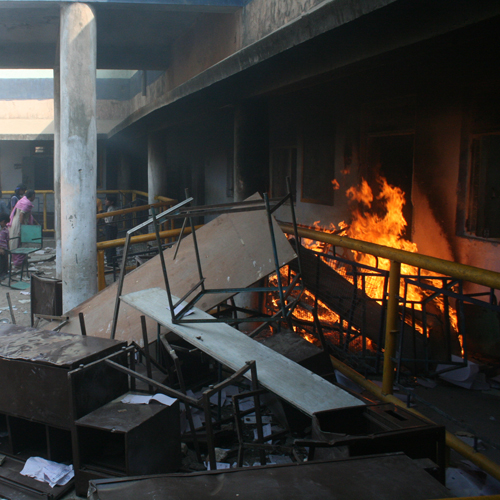 A Thanjavur district court on Wednesday delivered its verdict in the 2004 Kumbakonam school fire tragedy case, which claimed the lives of 94 school children and injured 18 others nearly a decade ago.
Pronouncing the verdict, the court held ten persons, including the school owner, head mistress and principal, guilty for 2004 tragedy, and acquitted eleven others for the lack of concrete evidence.
The tragedy occurred on July 16, 2004, when a fire broke out in the school's kitchen, which was used to prepare midday meals for the children, and then spread to the first floor due to the school's thatched roof.
The tragedy claimed the lives of ninety-four children, all between the ages of five and nine. After preliminary investigation it was found that the school teachers have abandoned the children struch in the fire.
It came to light later that three schools, including a government-aided institution, functioned in the same building even without a municipal license.
Authorities from various departments had certified the school building's structural stability, sanitation and student strength without making a single visit. On the day of the tragedy, an inspection was expected over an administration issue. In a bid to boost attendance and to claim grants and teacher postings, investigators say the school had fraudulently packed the private school children in the aided school wing.
Special Public Prosecutor Madhu Sudhanan had earlier said that the prosecution will press for maximum punishment for the accused in the case.