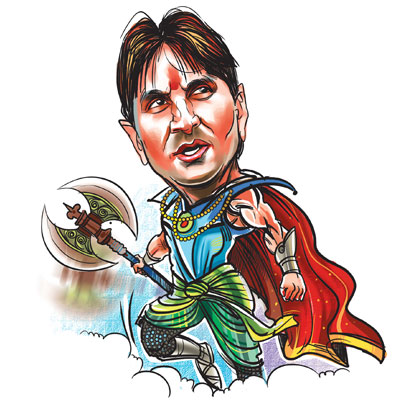 This is one contest which will remind one of the David vs Goliath fable where a young poet and fledgling activist-politician displays the audacity to take on the scion of a ruling clan, which has earned itself the sobriquet of the country's "first family". The seemingly puny, though vociferous, challenger also resembles the legendary Don Quixote as he tilts at windmills, for his mighty opponent is contesting in absentia, taking his victory and electors for granted.
For 34-year-old, Kumar Vishwas of Aam Aadmi Party (AAP), is a rather famous poet, nationally as well as internationally. He is the highest paid poet in the country and has performed at more 'kavi sammelans' and in more countries than any other Indian poet may have done previously. Videos of his renditions on YouTube are one of the most popular, getting hits by the thousands every day.
But, his plunge into politics, as he himself admits is rather accidental. "One fine day, I decided I want to contest against Rahul Gandhi, and here I am," he says simply. To take the big step, he was apparently inspired by his party leader and mentor Arvind Kejriwal, who had declared that he would contest against Narendra Modi from wherever he contested, and is now facing the BJP's PM hopeful in Varanasi.
Vishwas, whose journey in the Gandhi-Nehru family's pocket borough Amethi three months ago started on an uneasy footing, has grown into an arduous campaigner, sleeping the night in whichever village where the day's campaign ends, and starting off early in the morning with a small prayer and a cup of tea. "My campaign is decided by the people of Amethi, not by election managers," he says.
His mode of contact is simple. He sits down anywhere and since he is a famous name in Amethi, a crowd gathers within no time. "This place does not look like it has been the constituency for the last 10 years of a person, who has virtually ruled this country. He has never raised your problems in Parliament. He hardly ever comes here. I have come as a servant, not a ruler," he says at his meetings. Referring to the broken roads, poor power supply and other routine problems of Amethi, he recites the lines from his famous poem: "Ye tera dil samajhta hai ya mera dil samajhta hai."
However, Rahul Gandhi's absence from the Amethi arena as he campaigns for the Congress throughout the country means little consolation for Vishwas as Priyanka virtually bulldozes her way into the campaign, riding a wave of popularity, charisma and an emotional connect. Vishwas faces a big handicap as the brother-sister duo are seen on national television almost all day long while he campaigns in the constituency's dusty remote corners, with hardly any visibility. He also faces another colourful opponent, the famous TV 'bahu' Smriti Irani (BJP).
Vishwas faces cases for allegedly insulting women and Muslims in his poetry. In some ways, he is also rather unpredictable. Recently, he embarrassed his own party when he told reporters that he would prefer BJP to the Congress. He has also praised the RSS and in the past also sang paeans to Narendra Modi.