The AAP leader tweeted a video that he shared on YouTube of the incident.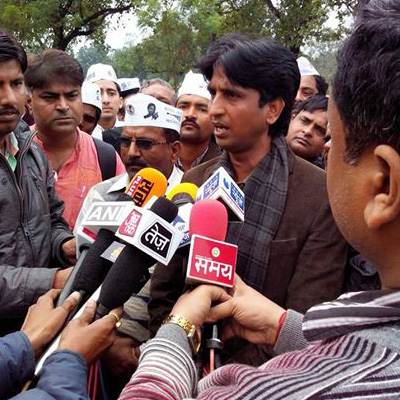 On Saturday, Kumar Vishwas, Aam Aadmi Party's leader who is set to challenge Congress Vice-President Rahul Gandhi for his Amethi Lok Sabha seat took to Twitter to shared a sting operation video.
Vishwas claims that a policeman in Amethi refused to file an FIR against a local Congress leader who allegedly threatening him, saying he would kill the AAP leader during his 'Jhadu Chalao Yatra'.
The video that was posted on YouTube, shows AAP leaders trying to convince the policeman to file an FIR. The policeman in the video appears reluctant and argues saying that he will first investigate the matter and then file the FIR report.
A local Congress leader, Munna Singh has been accused by Vishwas of threathening to kill him.
AAP also shared on its Facebook page, a video of the scuffle between Congress and AAP workers during the gathering lead by Vishwas. Singh and Vishwas are seen arguing as supporters clash.
The police then under pressure were forced to file the complaint.
Here are Kumar Vishwas' tweets, Facebook posts by AAP and the YouTube video about the incident:
Sting Video of UP Police (Amethi) refusing FIR against the Congress Goons who attacked our Yatra yesterday http://t.co/aG0I5n91d0

— Dr. Kumar Vishvas (@DrKumarVishwas) February 22, 2014
After the attack, this was expected... http://t.co/RRoxlVQAHM

— Dr. Kumar Vishvas (@DrKumarVishwas) February 22, 2014
Post by Aam Aadmi Party Amethi.
Post by Aam Aadmi Party Amethi.