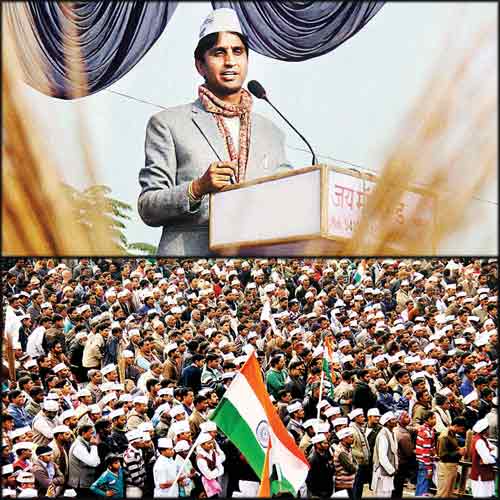 Congress workers threw black ink at him, shattered window panes of his bus, waved black flags at him and even burnt his effigy. However, by the end of Sunday, Aam Aadmi Party's poet-leader Kumar Vishwas emerged as the new hope of Amethi. The constituency is already abuzz with the poser: Can he do a Kejriwal in Amethi?
If the 15,000-odd crowd at his first rally — even before his formal declaration as AAP candidate against Rahul Gandhi — is any indication, Vishwas seems to have earned the trust of a sizeable number of people in the Gandhi family's VIP borough of Amethi. Winning or losing is full of psephological nuances, but after watching AAP's rally in Amethi, even an amateur political analyst could read the writing on the wall: Vishwas promises to make a big dent in Rahul's electoral kitty here.
Already, there are reports that Rahul as a safety measure could also contest from Udupi Chikmagalur (Karnataka) from where Indira Gandhi won in 1978 after losing to Raj Narain from Rae Bareli in 1977. Though Rahul won in Amethi in 2004 and 2009, his position here this time doesn't brook any room for conceit.
In the 2012 election, the Congress won only two of the five assembly seats in Amethi (Samajwadi Party won the other three). The Congress even lost the Amethi assembly seat. In neighbouring Rae Bareli (Sonia's seat), the Congress lost all five.
In the 2004 elections, Rahul polled 3,90,179 votes in Amethi and won by a margin of 2,90,853. In 2009, he got 4,64,195 votes and won by 3,70,198 votes. However, this time, his chances have considerably dimmed, though it may not be easy for AAP to bridge the huge victory margin unless there is a wave. Vishwas is definitely a better speaker than Rahul is. Rahul to buttress his chances will be forced to go in for an understanding with both or either the SP and BSP not to field candidates from Amethi.
Rahul continues to be surrounded by yes-men and those who have taken ample advantage of the party being in power for two consecutive terms. The ordinary Amethiite feels neglected. Rahul is unapproachable and seems to have lost touch with his electorate, with his short sojourns to Amethi getting few and far between.
His challenger Vishwas won over the hearts of the people at the rally with his inimitable style peppered with poetry, song and satire. A far cry from Rahul's quintessential sleeves-up rhetoric full of idle aggression and utopian idealism. The audience clapped along and swayed to the beat as Vishwas broke into a song, almost abruptly, at any point in his speech. After a couplet about what his last wish would be after laying down his life for the country, he built up a crescendo on the lines "Hothon pe Ganga ho, haathon mein tiranga ho" (holy Ganga water on the lips and the Tricolour in hand), and the crowd chanted along with a frenzy perhaps unseen or unprecedented in any political rally.
"Whatever they (Congress workers) might do, I am staying here. I will not leave Amethi till the election result is declared. It they really want me to leave, they will have to take my life," Vishwas said, striking an emotional chord before making his appeal: "I want the people of Amethi to decide who should win, a 'rajkumar' or a 'fakir'." He also said: "Till now, you have elected princes and queens. This time, elect a servant who will work for you," inviting a round of ready applause from the Amethiites.
He took on both Sonia and Rahul. "Everytime, Soniaji is unwell, she goes abroad for treatment. If she doesn't trust India's children, why should we trust her son?" he asked. He also picked on Rahul, saying: "Eating at a Dalit's house is not enough. What matters is when he has dinner at home, does he think about the Dalits who sleep hungry." Vishwas said Rahul had not even once raised any question about Amethi in the Lok Sabha. "When the country is in pain, Rahul is in Spain," he mocked, drawing loud cheers.
3,90,179 votes polled by Rahul Gandhi in Amethi in 2004 polls; he won by 2,90,853 votes
4,64,195 votes Rahul got in 2009 polls; he won by 3,70,198 votes
2 of 5 seats won by Congress in 2012 assembly polls in Amethi; SP won three