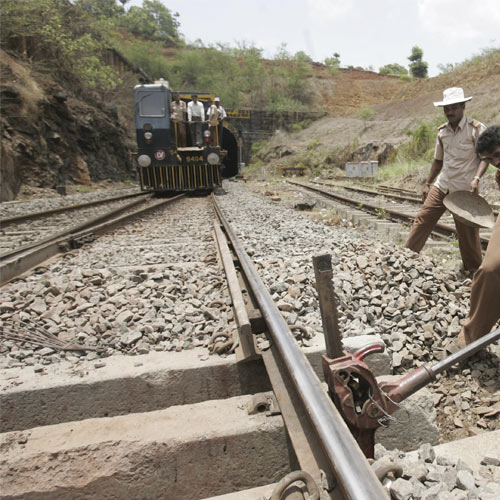 The railway track at Ukshi – Sangameshwar section on Konkan Railway route, which was affected following derailment of 5 wagons of an empty Goods train yesterday morning, has been restored. The derailed wagons were removed from the section at 0440 hrs today morning and track fit certificate was issued at 0650 hrs. With this, the train services have been resumed in the section.
Given the fact that the derailment had occurred inside tunnel, the restoration of track in just 20 hours is a commendable effort by the Konkan Railway engineers. Since there were serious restrictions in working inside the tunnel, the restoration work was as much more challenging.
Konkan Railway utilized two ARTs (Accident Relief Trains), one ARMV (Accident Relief Medical Van), two Poclains, Hydraulic Excavator, 2 Dip Lorries, and about 300 workers to restore the track in a record time.
One of these ARTs was brought in from Verna on Konkan Railway route, the second ART was requested from Central Railway at Kurla and the ARMV was brought at site from Ratnagiri. The restoration work at site was supervised by senior level Konkan Railway officials.
As a result of the restoration, some of the trains which were to be diverted, will now go via Konkan Railway route, thus bringing respite to the passengers. These trains are 12449 Goa Sampark Kranti Exp, 16346 Netravati Exp, 12618 Mangala Exp, and 12288 Dehradun-Kochuveli Exp.
There would be no trans-shipment required now for any train. Refund of approx. Rs.9,17,570/- was arranged for passengers at various stations on Konkan Railway route. As many as 129 bus services were used for trans-shipment purpose.
Passengers can call on 022-27561721 / 3 /4 for train related enquiries.