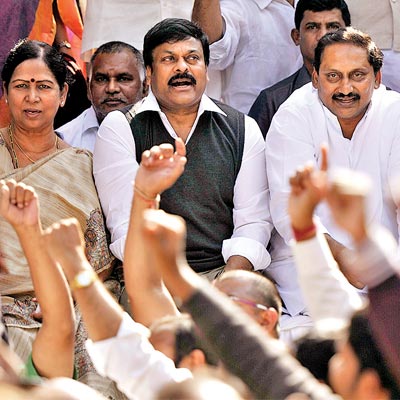 Andhra Pradesh chief minister N Kiran Kumar Reddy has carried his battle to the national capital, opposing the formation of Telangana. In the morning he drove to Rajghat, the Mahatma Gandhi memorial, before reaching Jantar Mantar, where he sat on dharna along with his fellow-Andhra members of legislative assembly (MLAs) and state cabinet ministers from about 12.45 pm to 6 pm.
A host of state ministers and MLAs from the Seemandhara region were also present on the dais. Later, he was briefly joined by four central ministers — M Pallam Raju, K Samba Siva Rao, D Purandeswari, Killi Kruparani.
Then he went to Rashtrapati Bhavan along with the Andhra legislators where he and his team met president Pranab Mukherjee and submitted a memorandum before returning to Hyderabad.
The point made in the memorandum is that the introduction of the bill for the formation of Telangana would be unconstitutional because the two houses of the Andhra Pradesh legislature had rejected it.
It seems that Kiran Kumar Reddy is doing all that he can to maintain his opposition to Telangana because his own survival and that of his Andhra colleagues clearly depends on this.
Congress general secretary Digvijay Singh had said the Congress does not have an objection to its party legislators and chief minister protesting against Telangana. It was an indirect indication that the Congress party refuses to budge from its position on Telangana, and the UPA government is determined to introduce the Telangana bill in parliament.