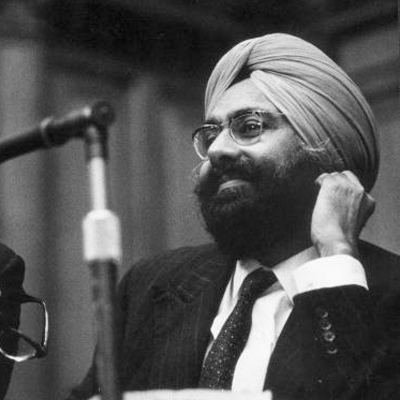 Eminent author, journalist, and a benevolent human being has bid adieu to us earthlings, to be remembered as a man marked for his malice columns.
One of the very few legends of the Indian literary arena, a candid writer and journalist who has always been in the eye of controversy for his bare all dare all attitude reflected through his writings. Khushwant Singh was a towering persona for he never got intimidated, neither with praise or brickbats. This son of the soil, the soul of Indian English writing and a proud Sikh though, will not see another rising sun, but his voluminous writings, which always has been an eye-opener for the revolution of the masses, will always shine bright like the sun, in the minds of people in the entire universe.
A man, whose name was synonymous with his malice columns, was himself free of malice. Very few would dare to make others laugh at their own expense or criticise oneself publicly, as he did. We will miss this spirited man (pun intended!) whose his own epitaph in his autobiography, Absolute Khushwant, was laced with sarcastic malice for himself.
Here lies one who spared neither man nor God,
Waste not your tears on him, he was a sod,
Writing nasty things he regarded as great fun,
Thank the Lord he is dead, this son of a gun.
Today, when his soul has departed the earth, this son of a gun will always be remembered for his remarkable gift to the Literary World. This candid, controversial writer has played multifaceted roles as a barrister, diplomat, writer, journalist and a very important role of a social reformist who tried to reform the society through his writings.
The woes and trauma of the partition has never been penned in such a soul searing manner by any other writer as was done by late Khushwant Singh. His novel, Train To Pakistan, should be a brutal reminder and a deterrent to any future communal differences in any part of the world.
Unlike his short story, Posthumous, where the author had penned about his imaginary death as an obituary in a newspaper column, the author reflected about friends and near and dear ones as lacking time to even grieve the author's death, today the entire world grieves this legend's death.
Akin to his stories, even his death has been ironic, as he never spared even God in his writings, but God has ensured that his wishes were fulfilled, as he met a peaceful death after solving a crossword puzzle. The thought of death had haunted this Padma Vibhhushan awardee to an extent that many of his writings reflected about death.
In fact, many will be surprised to digest the fact that this legendary human being found solace in a crematorium. His fear was not of death but the way of death. He had expressed about this fear in his autobiography, Absolute Khushwant, where he wrote, "I don't fear death. What I dread is the day I go blind or am incapacitated because of old age – that's what I fear – I'd rather die than to live in that condition."
Very few people, especially people whom the society scorned as a person with "malice towards one and all", would meet such a peaceful end.
May his soul rest in peace and his countrymen coexist in peace which was the ultimate purpose of his plethora of writings.