Life thrown out of gear as Srinagar receives 15cm of snowfall till afternoon on the eve of New Year.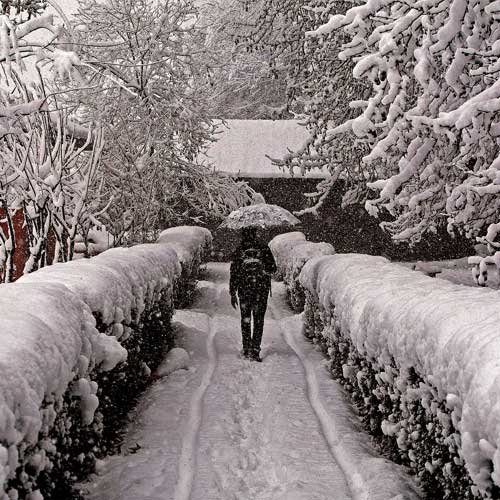 Paradise is again reverberating with the Kashmiri snow folk lores, thanks to the major snowfall in the plains. The Kashmir valley has been covered by a thick carpet of snow bringing smiles on the faces of people.
According to the Meteorological Center Kashmir, Srinagar received 15 centimeters of snow till 2.30 pm Tuesday. Qazigund, the gateway to Kashmir valley recorded 30 cm of snowfall while as border district of Kupwara received seven centimeters of snowfall till 2.30 pm.
Health resort of Pahalgam recorded 36 centimeters of snowfall while ski resort of Gulmarg recorded 17 centimeters of snowfall. Kokarnag, Banihal, Batote and Baderwah recoded 52, 36, 54 and 18 centimeters of snowfall respectively.
Met office has forecast light to moderate rain and snow in most of the places in the state. "The snowfall will continue till Wednesday. By Wednesday afternoon there will be some respite," said Sonam Lotus, director of Meteorological Center Kashmir.
Fresh snowfall also has created quite a buzz among the netizens with people greeting friends in traditional Kashmir style. "Sheen Mubarak", wrote one netizen on Facebook evoking cheerful response from others. People have also uploaded pictures of snowfall on SNSs evoking responses from people around the globe terming Kashmir a paradise on earth. The snowfall has also brought cheers to the tourists who had flocked the Valley to celebrate the New Year.
Cheers notwithstanding, snow has also thrown life out of gear. It has disrupted essential services in many parts of the Valley. The 300-kilometer Srinagar-Jammu highway has been closed for traffic due to the snow en route.