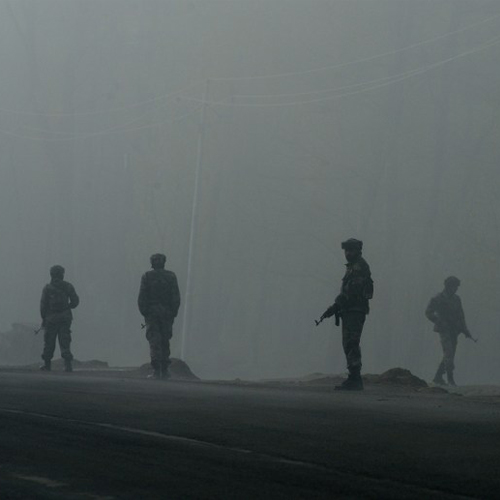 The Kashmir Valley is seething with anger over the killing of a 24-year-old youth by the security forces at Nawakadal in the sensitive old Srinagar city on Wednesday.
Police said Bashir Ahmad Bhat was killed when security forces deployed for poll duties opened fire after they allegedly came under severe attack by some miscreants in Nawakadal area on Wednesday evening.
"The miscreants snatched the weapon of a security force personnel. In the ensuing scuffle, two persons, Bashir Ahmed Bhat and Nazir Ahmed Kaloo, got injured. Bashir Ahmed Bhat later on succumbed to his injuries," a police spokesman said.
The incident sparked anger with people taking to streets in several parts of Srinagar city protesting against the killings. Stone-pelting incidents were also reported from different parts of the valley.
Fearing escalation, the authorities clamped curfew in sensitive parts of the old Srinagar city as a precautionary measure on Thursday.
Police and paramilitary forces were deployed in strength to counter any stone-pelting and maintain law and order in the city. Concertina wires have been rolled out at different road axis to restrict the
people's movement and prevent any protest march.
Despite strict security measures, violent protests and stone-pelting rocked several towns in north and south Kashmir districts. Police said there were stray incidents of the stone-pelting in some areas but
there was no loss of life or the property.
A complete shutdown was observed in Kashmir valley against the killing. Shops, and business establishments were closed and traffic was off the roads. The call for shutdown was given by both factions of Hurriyat Conference and other separatist groups.
People's Democratic Party (PDP) cancelled all its campaigning programmes in Baramulla parliamentary constituency on Thursday following the precarious security situation.
"All the programmes of PDP patron Mufti Mohammad Sayeed and president Mehbooba Mufti scheduled for May 1 has been postponed due to the prevailing situation arisen due to unfortunate killing of a youth in Srinagar," a PDP spokesman said
Baramulla and Ladakh parliamentary constituencies are going to polls in the next phase on May 7.
"Omar Abdullah-led coalition has left deep scars of torment on the body and soul of Jammu and Kashmir in its six years of draconian rule. Unfortunately before being voted out, the present government is trying to put Kashmir again on fire," said Muzaffar Hussian Baig, PDP's candidate for Baramulla parliamentary constituency.
Meanwhile, Hurriyat hawk Syed Ali Shah Geelani has called upon people to stage protest demonstrations against the killing of the youth after Friday prayers.