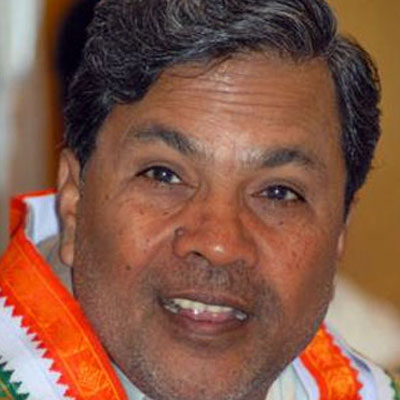 Karnataka Chief Minister Siddaramaiah Monday wished BJP's prime minister-designate Narendra Modi best of luck in leading the National Democratic Alliance (NDA) government at the centre.
"I wish Modi all the best and hope the ensuing NDA government will extend the same cooperation as the United Progressive Alliance (UPA) government to Karnataka despite being in different political parties," he told reporters in Bangalore.
Flagging the achievements of his government on completion of its first year in office, he said a central government of any party would have to maintain healthy relations with states in accordance with the provisions of the Constitution.
"As part of the federal structure, the central government and states have to work in harmony for the country's development. I don't think our government will be discriminated against just because we belong to Congress," Siddaramaiah observed.Of the 28 Lok Sabha seats in the state, for which polls were held April 17, BJP won 17, Congress nine and Janata Dal-Secular (JD-S) two seats.
The Election Commission pulled up Siddaramaiah for calling Modi a mass murderer (nara-hanthaka) at political rallies he addressed during the election campaign, in an oblique reference to the 2002 riots in Gujarat under the latter's chief ministership.
Siddaramaiah also mocked at the Gujarat development model in the presence of his party president Sonia Gandhi and vice president Rahul Gandhi in public meetings during electioneering. Modi, however, refrained from criticising Siddaramaiah but did not spare the beleaguered Congress and the Gandhis while campaigning.
Asked if he agreed with political pundits' observation that Karnataka was "cursed" to be ruled by a party or an alliance not in power at the centre, an unfazed Siddaramaiah said his state was not an exception and it was common in a federal set-up. "We are all governed by a robust Constitution, which does not discriminate states on party lines and both the governments at the state and central level have to maintain its federal spirit," the chief minister added