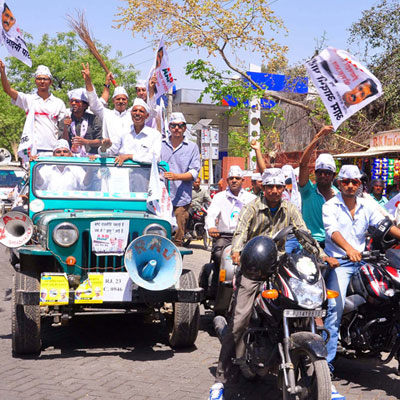 At the height of the poll season, candidates of various political parties have been hit by a shortage of open-hood jeeps, which is a favourite campaign vehicle to criss-cross muddy paths and uneven terrain.
The president of BJP's Bengal unit Rahul Sinha says campaigning in open-hood jeeps is of great help as one has to cover so many Assembly segments under a Lok Sabha constituency. "It serves the purpose of covering more areas putting less stress on your body during election time," Sinha, Kolkata North candidate, said.
Sinha's views were shared by his contender from Congress party Somen Mitra, who said, "It is a bit tough to campaign in every Lok Sabha segment on foot. So the jeeps come handy." Open jeep campaigning has been a favourite with TMC Dum Dum Lok Sabha candidates Saugata Roy and BJP's Tapan Sikadar.
BJP candidates Bappi Lahiri and Babul Supriyo's jeep campaigns have been a huge hit in their constituencies.
For the Left Front candidates, who mostly prefer door-to-door campaign, are also using jeeps. Left Front Howrah candidate Sreedip Bhattafcharya has been seen holding his road shows riding a jeep in the industrial belt of Howrah.
Favourite though it is with the candidates, they are facing a shortage of the vehicles as various travel agencies and garage owners are finding it difficult to supply open-hood jeeps. "Many of our candidates like PC Sorcar from Barasat seat did not get hold of open-hood jeeps due to non-availability," Amitava Roy, a senior state BJP leader said.
The travel agencies and owners charge around Rs 2,000-3,000 per day for the kind of jeeps depending on the condition of the vehicle.
"This year the demand for such jeeps is a bit high. We have got an order to supply five such jeeps but we managed to supply just two. Except for the election time, these jeeps are generally not hired because their fuel intake is much higher than other cars," said a garage owner of North 24- Parganas district.
A travel agent in Central Kolkata pointed out that with most of the constituency witnessing a four-cornered fight between Trinamool Congress, CPI(M), Congress and BJP, candidates of all parties are trying to use road shows in jeeps as an integral part of the campaign.
"In hilly areas the demands of such jeeps are higher due to the sturdiness of these jeeps," said Biswanath who runs a car hiring agency.
Biswanath also pointed out that most of the jeep owners, who lease out their vehicles, have increased the fares keeping in mind the higher demand for such vehicles. Roy pointed out that most of their candidates are using mini trucks in place of open-hood jeeps.