As Tamil Nadu prepares to go to nationals polls tomorrow, here's a look at the key contenders, parties and constituencies in the state
In a single phase polling, 39 seats from Tamil Nadu will decide on their representatives in the Lok Sabha elections tomorrow. The state that has been under the political scanner for a while, with performance of its current government being compared with Gujarat.
An electorate of about 5.50 crore will be voting across 60,817 polling stations to choose from 845 candidates. More than 2.93 electoral officials will be deployed for the polling, election authorities informed. DGP (Elections) Anoop Jaiswal also said that 1.47 lakh police personnel have been put on security duty.
Key Parties:
* The ruling Jayalalithaa-led AIADMK government is not only confident of its victory but is also projecting their leader as a potential prime ministerial candidate. 'Puratchi Thalaivi Amma" (revolutionary mother), as Jayalalithaa is affectionately addressed by her followers, seemed to be largely banking on her government's pro-poor schemes like subsidised canteens, packaged drinking water bottles sold at cheaper rates and distribution of freebies like mixer grinders and milch animals started three years ago.
* Democratic Progressive Alliance lead by DMK, is still a strong contender, despite having sufered a severe blow in the 2011 Assembly elections. Lead by five-time chief minister M Karunanidhi, the party is also dealing with an internal family feud that threatens to weaken DMK.
* BJP with its six-party 'rainbow' alliance, roping in cine star-turned-politician Vijayakant's DMDK, Vanniyar community backed PMK among others.
ALSO READ: How the Tamil film industry continues to influence state politics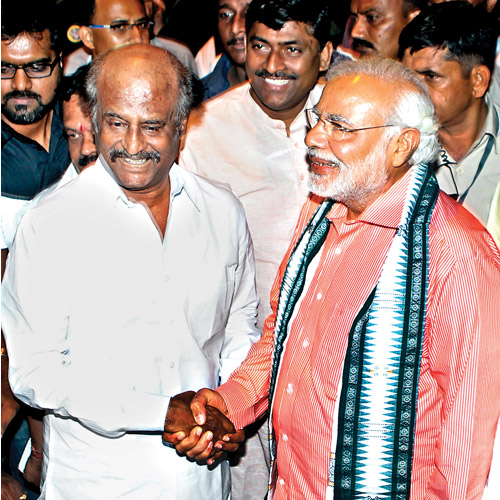 Key Contenders
* DMK's former union ministers Dayanidhi Maran (Chennai Central),
*2G scam accused A Raja (Nilgiri SC)
* TR Baalu (Thanjavur)
* S Jagatrakshakan (Sriperumbudur)
* TKS Elangovan from Chennai South, which has the highest number of 42 candidates.
* Former Union minister Mani Shankar Iyer of Congress is fighting from Mayiladuthurai in Cauvery delta
* PMK's Anbumani Ramadoss from Dharmapuri
* Vaiko of MDMK from Virudhunagar
Controversies:
* With a full-blown sibling war between M Karunanidhi's two sons—MK Stalin and MK Alagiri—the DMK patriarch is working hard to revive the his party this elections. The family feud has now led to the dismissal of Alagir. Read more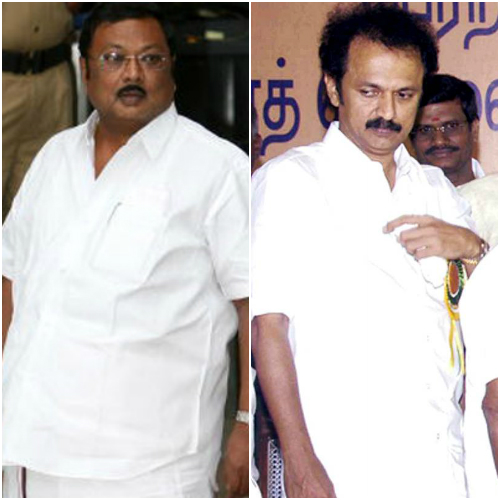 Alagiri is now asking his supporters to ensure the defeat of DMK candidates (http://www.dnaindia.com/india/report-m-k-alagiri-asks-his-supporters-to-defeat-dmk-candidates-1979803)
* Also, involving the DMK is their decision to consciously dump its decade-old ally Congress, apparently due to apprehension over UPA's anti-incumbency factor. Asserting that DMK had the capability to face the polls with its existing local allies, Karunanidhi said there was no setback for his DPA in the absence of a national party in the combine.
Instead, DMK has taken local players like VCK, MMK, IUML and Puthiya Tamizhagam on board in its Democratic Progressive Alliance (DPA) in an apparent bid to net minority and Dalit votes and challenge AIADMK in this election.
* Gujarat vs Tamil Nadu – AIADMK chief J Jayalalitha sparred with BJP's prime ministerial candidate Narendra Modi over his accussation of that her party was not concerned about people's welfare. In a shar retort to Modi, she said that Tamil Nadu was way ahead of Gujarat in various sectors including social indicators and industry. ""A myth has been created that Gujarat is No 1 in India. But that is not true. The fact of the matter is that Gujarat is keen to market itself, but Tamil Nadu, under my leadership, is focussed not in making empty claims, but more determined to deliver," she said.
ALSO READ: Can Narendra Modi depend on Jayalalitha post election results?
* J Jayalalitha's AIADMK has been accused of "buying" votes by gifting cash and other items. The DMK also alleged that police acted in concert with the AIADMK while election returning officers took no action to stop the mass bribery.
ALSO READ: Quirky election poster of J Jayalalitha, Sonia Gandhi, Vasundhara Raje leave parties red-faced