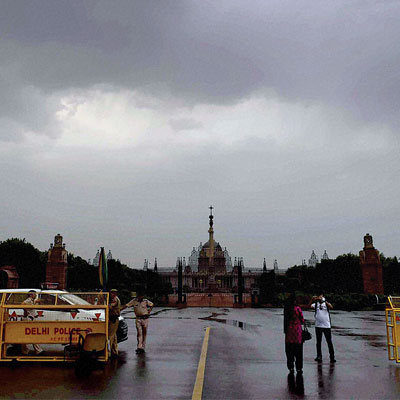 Narendra Modi will take oath amid unprecedented security with the national Capital all set to turn into a fortress for the swearing-in ceremony in the forecourt of the President's estate, expected to be attended by 2,500 people on Monday, May 26.
The Delhi police, with the help of other intelligence and federal agencies, is ensuring that it turns Raisina Hill into a bastion. Delhi Police has decided to deploy 15 companies of police in the New Delhi district on Monday. Offices in both South and North blocks will close at 1pm on Saturday, and all high-rise buildings in the area will have snipers atop rooftops, keeping a hawk's eye on the proceedings.
"Approximately 20,000 jawans will guard the New Delhi district on Monday apart from the snipers guarding Raisina Hills. Three-tier security in and around the ceremony venue will ensure that nothing unwanted comes in," said Delhi Police Additional Commissioner SBS Tyagi.
According to sources, army and air force officials are also participating in the security arrangements with bulk of the work being done by the Delhi police. Anti-aircraft guns will also be positioned at different undisclosed locations.
Modi is one of the most protected politicians in the country today, and with heads of neighbouring nations being invited, the swearing-in ceremony has become a nightmare to prepare for for security agencies.
When Modi takes oath, a large LED screen at the historic Town Hall in Chandni Chowk will screen the event live, said Delhi BJP media cell co-convenor, Praveen Shankar Kapoor. The party along with the Chandni Chowk Nagrik Manch is also illuminating and decorating the Chandni Chowk Bazaar from Red Fort to Lahori Gate.
A party leader said Modi always thinks big, likes to do things in a grand way and has an eye for detail. So apart from political dignitaries, Modi would like to have his friends around when he takes oath as Prime Minister. His wish list of invitees reportedly includes superstars Amitabh Bachchan, Rajnikant and Salman Khan besides veteran singer Lata Mangeshkar. Party sources said apart from the party and protocol list, which includes the foreign dignitaries, Modi has his private list of invitees.