Jaseera V fought a repressive childhood, an abusive first husband, and the police to strike out on her own. Gargi Gupta meets the nursing mother who has travelled from Kerala to Delhi with her children to sit on dharna against the powerful sand mafia.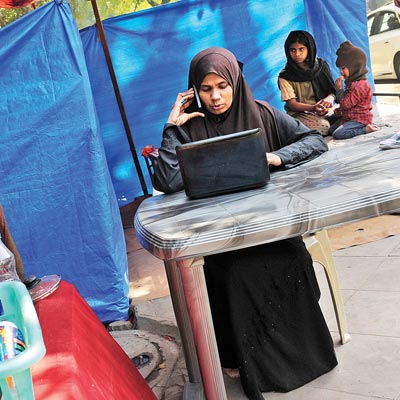 You can't miss the neat little tent made of blue tarpaulin sheets strung together on bamboo poles outside Kerala House on Jantar Mantar Road. This is Delhi's protest street where, on any given day, you will run into all manner of people raising slogans, handing out petitions, making angry speeches or sitting on a dharna. Many of the protesters here have travelled far and feel this is where they stand the best chance of getting a hearing. So does Jaseera V, the 31-year-old crusader from Kerala who has commandeered a section of the pavement since October 6 last year for her indefinite dharna against the sand mining mafia that is devastating the coastline near her village Madayi, around 30 kilometres from Kannur town in north Kerala.
"I want sand mining to stop completely. My fight is for nature and against injustice," says the mother of three whose children, the youngest not even two years old, have been with her right through, even through the cold January nights of Delhi's winter. She speaks Malayalam with very little English and no Hindi but that does no deter her. This is a woman who has fought tremendous odds and is determined to be heard.
Unlike the other agitations on Jantar Mantar, a stone's throw from Parliament House, there is nothing outside Jaseera's tent to tell you what it's all about — no banners, no ecological message or appeal to higher-ups. Jaseera is always around. She speaks to passers-by and media-persons with the help of a translator — usually one of her many visitors from Delhi's Malayalee community who drop by daily to check on her, bring food or anything else she might need. Most press money — generally anything between Rs50 and Rs1,000, and one admirer Nadir Abdussalam even deposited Rs1 lakh in her account — into her hands before they leave.
Manoj Nair, for instance, drops in every morning, afternoon and evening, on his way to office in nearby Connaught Place. "She had a board in the beginning which described her agitation in Hindi. But the police tore it up when they broke down her tent in November," he says. Apparently, they do this every once in a while, leaving Jaseera to rebuild her tent, which she seems to have become quite an expert at. "I have seen her put everything together in less than two hours."
It's a tough life for her daughters Rizwana and Shefani, aged 12 and 10, respectively, and son Mohammed, a year and 10 months old, who have made the pavement their home. The girls don't go to school and have free run of the street on their bicycles, given to them by one of their mother's supporters. "To ensure they don't miss out on their studies, they have a teacher coming to their tent — young graduate Mufeeda, who is in Delhi to prepare for the IAS exams. "I spoke to the teachers when I took them out of their school, and they agreed to keep them on the rolls. They told me that they could take the exams here in Delhi in March," says Jaseera.
Jaseera's tryst with activism began about two years ago when she was pregnant with Mohammed, her son from her second husband Abdus Salam, and had come back to her home in Madayi to see that the shoreline had been devastated by indiscriminate sand mining. For someone who grew up, literally, on the Neerozhukkumchal shore — the little shanty that her family lives in is barely 50 metres from the sea — it was a heartbreaking sight. "We were the first to settle on that particular stretch of the beach. My father used to supplement his income by making coir," Jaseera says, nursing her son in the folds of her hijab.
Unschooled in the larger environmental debates, she realised, however, that nature was being desecrated on the coast. Jaseera began to drive away the miners from the Madayi coast, continuing her vigil into the night to ensure that they did not creep in surreptitiously. She was pregnant but that didn't save her. "They pulled me by my hair and pushed my face into the sand," she remembers. And there was no support from the villagers or her family either because the mafia was an important source of livelihood in this comparatively poor district of Kerala.
Soon, Jaseera began to catch the attention of the media which wrote about her solitary struggle, bringing her further criticism for being "publicity hungry". But she was not one to give up. When the politicians ignored her and the police, apparently hand in glove with the sand miners, did not register her complaint against the mafia, she took her daughters and sat on a dharna in front of the local Pazhayangadi police station. That attracted more media attention, and also the human rights commission which, expressing concern over the discontinuation of the children's education tried forcibly to take them away. Undeterred, Jaseera continued with her agitation until the tehsildar gave a written undertaking that no sand mining would be allowed along the coastline near her village.
Jaseera went back, delivered her son and returned to Madayi a few months later to find that nothing had improved, that the sand mafia were continuing their activities with impunity. So she went back to her protest, this time at the Kannur district collectorate. The media played up the issue and within a week the district collector promised to put up a police outpost near Jaseera's home to ensure no one mined sand. But that too did not help as Jaseera found that the policemen were openly helping the sand miners. She then shifted her struggle, along with her daughters, to Thiruvananthapuram, squatting in front of the secretariat. Three days into her sit-in, Chief Minister Oommen Chandy called her to his office and promised to look into the issue. Jaseera, who had learnt not to rely on verbal assurances, asked for a written undertaking. Chandy refused and Jaseera went back to her dharna, and continued for more than two months before deciding that she needed to shift her agitation to Delhi if she wanted the state government to take notice.
"Jaseera is a born fighter," says Vinod KP, whose environmental forum Nallabhoomi supported her in the initial phases of her protest. Born in a conservative Muslim family to a poor tea vendor, Jaseera says she had such a strict, repressive childhood that her brothers would not even allow her to play on swings. At the age of 17, immediately after her class ten examinations, she was married off. But the marriage wasn't a happy one — her husband was a drunkard and a petty thief who wouldn't allow her to read newspapers or books. So she ran away with her daughters to Madayi, but her brothers didn't like it and beat her up. When her elder daughter was around eight years old, Jaseera escaped, this time to Ernakulam where she worked as a domestic worker and sold books for a living. She also did something quite radical — she learnt how to drive an autorickshaw and bought one with a loan under the Rozgar Yojana. Of course, there was a lot of opposition from male autorickshaw drivers who felt it was not something a Muslim woman should do, but Jaseera continued undeterred. In 2011, she met Abdus Salam, a preacher in a local mosque, and married him. She is his second wife, and though Salam lives with his first wife and children, he supports Jaseera and her three children. All through her dharna in Delhi, he has been sending her Rs1,000 a week.
What has Jaseera's protest, undertaken at such cost to herself and her children, achieved? Not much, says advocate Vinod Payyada, president of the Kannur district forum of environment activists.
"Sand mining has reduced but it is still happening."
Since August last year, when the union ministry of environment and forests decided to implement the Gadgil committee recommendations on banning sand mining along the Kerala beaches, the issue has become politically sensitive. There have been several strikes and agitations of late across the state in favour of sand-mining, supported by political parties across the spectrum and even the church. The state government petitioned the apex court for a stay on the implementation of the panel, and the National Green Tribunal's orders in the matter. It was struck down by the Supreme Court , but environmental activists scored a minor victory when sand mining along the Muvattupuzha and Periyar rivers was banned by the district administration in January, and a state-level monitoring committee formed to come up with a report on the matter.
"Jaseera's fight is not just against sand-mining, it is against the model of development being advocated by governments and the corporate sector today," says Vinod.
It hasn't helped that Jaseera has been insistent on going on alone with her struggle. Elizabeth Philip, a Delhi-based women's rights worker, calls her style of protest "individualistic". She even refused a help of Rs5 lakh from a a businessman, since she did not want to travel to Trivandrum to collect it.
Abdus Salam came to meet her in the capital this week for the first time. He has always been supportive of her. This cost him his job at the mosque two months ago. "They felt that my wife was not doing something that a good Muslim woman should be doing," he says. He now works, ironically, as a supervisor in a construction company.
Jaseera is resolute as she sits in her tent, checking messages on her Facebook page. She vows to continue her fight. "Whatever duty I have towards nature, I have towards my children as well. I cannot afford to leave either."
Jaseera's journey in search of justice
Jaseera's tryst with activism began about two years ago when she was pregnant with Mohammed
She started by driving away the miners from the Madayi coast and continued her vigil into the night
She sat on a dharna in Pazhayangadi and later in Thiruvananthapuram
Presently, Jaseera can be found on the pavement in Delhi's Jantar Mantar which has been her home for the last four months.