007 is back: heroic, flawed, vulnerable, and more than ever like Ian Fleming's original creation.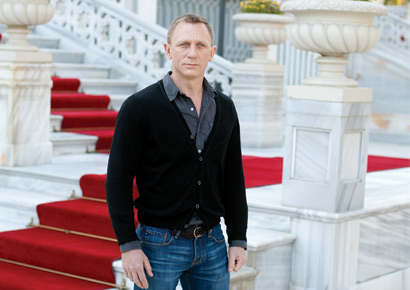 007 is back: heroic, flawed, vulnerable, and more than ever like Ian Fleming's original creation. Mark Salisbury catches up with the cast and crew of Skyfall on location in Istanbul.
A lot has changed in Istanbul - Ian Fleming's favourite city - in the 49 years since James Bond first visited it in From Russia With Love. In Eminonu Square, on the banks of the Bosphorus, nestled against the steps of the New Mosque, Dennis Gassner, production designer of Skyfall, the 23rd Bond film, has created his own grand bazaar with 196 market stalls and 500 extras. It's part of the pre-credit chase that opens Daniel Craig's third outing as 007, an elaborate sequence involving trains, cars and a rooftop motorcycle pursuit that will take two months to complete.
Bad guy Patrice, played by Swedish actor Ola Rapace, crashes a black Audi A5 sideways into the crowded market, then commandeers a police motorcycle. A silver Land Rover driven by MI6 field agent Eve (Naomie Harris), with Craig's Bond riding shotgun, collides with a cart, spilling oranges everywhere. Craig, impeccably dressed in a tight-fitting, grey Tom Ford suit, leaps out of the car. Rapace shoots, then flees. Craig returns fire, then hotfoots it after him. The scene is over in an instant. Resetting the bullet hits, stunt vehicles and breakaway props for another take will take much longer. Four cameras capture the action from every angle, under the direction of American Beauty Oscar-winner Sam Mendes.
"Each director comes with his own agenda for what he wants to see," says Gary Powell, who is working on his third Bond as stunt coordinator. "Sam is very character driven. Even though this is a huge opening sequence, it's all about character."
When Daniel Craig made his Bond debut in 2006's Casino Royale, he brought a real physical presence to the character but also a darker, more dangerous, more emotional side that harked back to Fleming's original novels. Indeed,
"Back to Fleming" has become a mantra espoused by everyone working on Skyfall.
"Back to Fleming means finding that character again," says Mendes. "What [Fleming] created is a very conflicted character. He suffers from a kind of lassitude, depression, difficulty with what he's chosen to do for a living, which is kill. That makes him a much more interesting character. and some of those things are explored in this movie because Daniel is an actor capable of exploring them. The last novels take him into an area where he is increasingly disaffected by what he's doing, and aware of his own fading powers. And that, as Chris Nolan has demonstrated brilliantly with Batman, is exhilarating to watch if it's done by a great actor."
Mendes's involvement with the new film began three years ago, when Craig bumped into him at a party in New York, and suggested to him he direct the next Bond. "I just asked him if he was interested and he was," recalls Craig who, in 2002, starred in Mendes's Prohibition-era gangster film, Road to Perdition.
"I knew what kind of director he was, I knew how much of a Bond fan he was, and how much it meant to him growing up. It's always a tough thing when we get around to making a movie - what qualifies a director to be the perfect Bond director? - and it came to me in a flash."
On the surface Mendes may appear a surprising choice, being something of a stranger to action movies. But, he says: "I'd always wanted to do a thriller, and the Fleming novels were thrillers rather than action-packed adventures."
His favourite Bond film is From Russia With Love. "For me, the movies divide into two around about Moonraker when they become a sort of action-adventure spectacular. The big thing for me was having a Bond I believed in, in whose hands the character could be taken to another level. If I didn't feel I could have made something that was part of the Bond story and at the same time personal to me, I wouldn't have attempted the movie."
For a while after the last film, 2008's Quantum of Solace, it looked as though the franchise may have hit the buffers. Throughout 2010 MGM, the studio behind the series, grappled with financial difficulties and, eventually, filed for bankruptcy in November 2010. By the end of that year, the studio had emerged from bankruptcy and in April 2011, a deal was struck with Sony to distribute the film.
According to Craig, the delay proved creatively beneficial, with Mendes and Craig working on the project in secret while the production was officially on hold. "We weren't supposed to talk to each other because MGM hadn't made the deal and we weren't supposed to be making the movie," Craig recalls. "[But] you couldn't shut us up; we were very excited about it. Sam and I sat down and reread the books together and took out chapters and lines." Mendes adds: "The delay allowed us the time to think about the story more than might have otherwise been the case."
Mendes drafted in John Logan (The Aviator) to rework the initial script written by regular Bond writers Neal Purvis and Robert Wade and originally called Silver Bullet. "We had a fantastic script when I signed on, and I didn't think it could get better, but it did," says Harris. In what way? "A lot more humour. Also going back to the books, it felt more in keeping with the feel of a classic Bond movie. A lot of it is Bond getting his wit back."
"Fleming uses wit and irony to elevate the tension and some of the darkness in the material," says Mendes. "It's about bringing that tonal variety to the movie. I've made a Bond movie I want to see, and what I want to see is something that is exciting, but also has some of that wit and irony that maybe wasn't present in the last movie."
Coincidentally, Logan had recently reread all the Fleming books when Mendes first asked him to work on the project and he says their early discussions centred on the meaning of Bondian. "How is an action sequence in a Bond film not a Bourne action sequence, or a Mission: Impossible action sequence?" asks Logan.
"Building that vocabulary of what we think the perfect James Bond film is, it's a little like alchemy. If you have too much grotesqueness or too much over-the-top action it can tilt the balance so you don't believe the drama. Conversely, if you play it too hard and too dark, you lose the wit. Sam and I always talked about Fleming first, about the particular tone of Fleming, and trying to make that the beating heart of Skyfall."
Craig, says Logan, is completely in tune with what makes Bond work. "He plays it hard, he plays it real, he plays it with consequence. Therefore, I was beholden as a writer to give him those moments that are true and honestly impactful," he explains. "Dan also has a very sensitive ear for dialogue. His response to the words Bond says, even the number of syllables in a line, is instinctively correct. One of the things we all embrace from Fleming is [the idea that] James Bond is not a superhero. Yes, he is heroic in his actions, but he's vulnerable and he's flawed."
Plot details regarding Skyfall have been closely guarded, with even the identity of the characters played by Ralph Fiennes, Ben Whishaw and Albert Finney kept secret for months, although it's since been revealed Fiennes plays government agent Gareth Mallory, rumoured successor to Judi Dench's M, while Whishaw is gadget guru Q. Finney's role, however, remains a mystery. All we really know for certain is that M's past comes back to haunt her.
"It's almost going back to the grassroots of the evolution of MI6," says Harris. "For me, it's like the rebirthing of the whole Bond franchise in the way it's done. With this one it does feel like this is a real big bang, a real evolution to the next stage of Bond." Which, for Harris, also means binning the label "Bond girl" once and for all, because, she says, "they're not Bond girls, they're just characters."
For Skyfall's lead villain, Mendes wanted someone "more flamboyant, more frightening" than normal, so he cast Javier Bardem - who won an Oscar as the chilling baddie in the Coen brothers' No Country for Old Men - as the blond-mopped Silva. Again, it was Craig who made the first approach.
"He's one of my favourite actors, if not the favourite," insists Craig. "He's put an amazing performance in and given us all we want from a Bond character and more."
Writing Silva, says Logan, required holding a mirror up to Bond. "It's an echo through the entire series that Bond is perhaps most vulnerable and forced to be at the best of his game when he's confronted with an equal," he adds. "What makes Bond villains great is that unique combination of danger and panache. He's a very theatrical character, he likes to make an entrance, he likes to make an exit, the same way our first Bond cinema villain 50 years ago, Dr No, loved to. So we've given Silva one of the great entrances and Sam shot it heroically and Javier plays it to perfection. He was always a larger-than-life character and Javier brought so much to it in his performance. He is a character who speaks in arias."
As befits a Bond film, Skyfall flits across the globe, taking in China, Turkey and Scotland, but it's also, says Mendes, a very English picture. "It's bringing Bond back to true, if you will," reveals Logan. "And Bond's background, Bond's youth, Bond's development, how he became the man he is, is tied completely with the soil of England, with the iconography of England, with the flag, with the music. And so, in a movie that in the broadest thematic way is about rebirth and resurrection and the cycles of life, it seemed only appropriate to bring Bond back to where he began."
Skyfall arrives in cinemas this month almost exactly half a century since the release of Dr No, and it will mark Bond's golden anniversary by paying homage to what's gone before. "Not only to previous movies set in Istanbul but also previous movies full stop and the Bond movies I started [watching], the Connery movies and the early Roger Moore ones which, to me, are the quintessence of Bond," says Mendes. "I think fans can look for the wry aside to characters they know, to moments they might remember from other films, even to a self-aware wink at some of the tropes of Bond," concludes Logan.
"There's a sequence where Q gives him his supplies and Bond is rather disappointed at the gadgetry involved and Q makes a wry joke: 'Were you expecting an exploding watch? We don't really do that any more.' So there are moments where we very affectionately nod at what's gone before, and perhaps give hints about what will come in the future."
Skyfall is released on October 26.