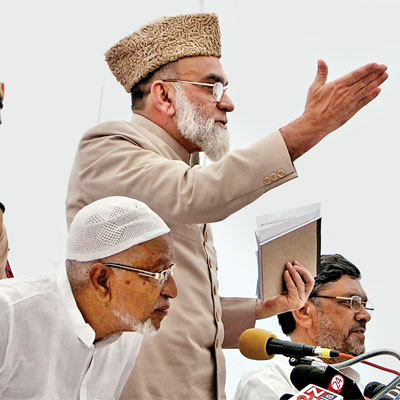 An appeal by the religious head of Delhi's historic Jama Masjid to vote for the Congress is unlikely to cut ice with the residents of the Walled City.
"I declare my support for the Congress party with the belief that it will fulfill its promises if it comes to power," Shahi Imam Syed Ahmed Bukhari said on Friday while exhorting his community to support the Congress.
In the past elections, political leaders, including Atal Bihari Vajpayee and HVN Bahuguna, used to make a beeline for Jama Masjid to meet the current Imam's father, Syed Abdullah Bukhari, to seek his endorsement. But this time around, it was the Imam himself, who sought out a meeting with 10-Janpath. The Imam had detailed discussions with Congress president Sonia Gandhi over issues that have been bogging down the community, such as communal riots, education, employment, implementation of the recommendations of the Sachar Committee and the Ranganath Mishra Commission and the reassurance on the safety of the lives and properties of the Muslims.
But over the years, the Imam's appeal has failed to hold much water. Congress' Haroon Yusuf won Ballimaran despite Imam Syed Ahmed Bukhari's disapproval. And his old disciple, Shoab Iqbal, won Matia Mahal, in the immediate neighbourhood of Jama Mashid despite inviting the Imam's wrath.
The political stature of the Imam now seems to be history. Local residents told dna that the Imam's move to lend support to Congress will only help the BJP by ensuring polarization of votes.
"Imam saheb has done the wrong thing by favouring one party. He will only help the BJP by this because now 80% of the electorate, which consists of Hindus, will be polarised," Abdul Khaliq, Meena Bazar vice-president, told dna.
According to the 2001 census, Chandni Chowk constituency, which houses Jama Masjid, has about 20% Muslim population, 35% Banis and Punjabis, 26% SCs and 9% Brahmins. The contest is between sitting MP Congress' Kapil Sibal, BJP's Harshvardhan and AAP's Ashutosh.
"Siyasat alag cheez hai aur masjid me namaz ada karna alag cheez hai (Politics and going to the mosque for prayers are two different things). We are literally not bothered by what the Imam saheb says. The image of the Congress has deteriorated to an extent that despite the Imam saheb's statement, nobody will vote for them," said the owner of a Jama Masjid restaurant requesting anonymity.
Apart from the Congress, the Imam endorsed the Trinamool Congress and heavily criticised the Bahujan Samaj Party (BSP) and the Samajwadi Party (SP). He said the SP played a leading role in the destruction of lives and properties of Muslims in more than a hundred communal riots. For the BSP, he said that voting for a regional party in the parliamentary elections would be the same as a wasted vote. But he supported the TMC for solving the problems of Muslims. "I appeal to the voters of West Bengal to make the candidates of Trinamool Congress successful as whosoever forms government at the centre, the role of Trinamool will be crucial."