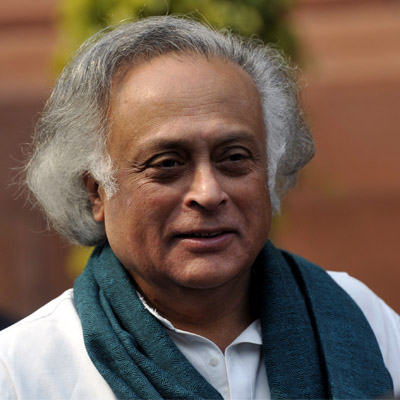 With India becoming more and more tech-savvy, and the Indian media leaving no stone unturned in utilizing technology to its best use, Network 18 and Google Plus organised a live hangout with Jairam Ramesh, the Minister of Rural Development, on March 27 at 6 pm.
About Manifesto:
A day after Congress released its manifesto, the Congress leader was questioned about Congress' failure in performance and how many points that appeared in the 2009 manifesto had been carried forward in the 2014 edition. Jairam Ramesh says though a lot of things in the manifesto are a continuity of the 2009 manifesto, the INC is expanding in scale, learning from experiences and charting new courses and new directions. "What we are promising in 2014 is a step-up, it is an expansion. We delivered 8% annual growth rate in the first five years of UPA and 7.3% in the next five years, while the NDA had only 6% growth rate in its 6 years tenure," he said. On asked whether the Congress has been forced to address the economic issues because the BJP's agenda of development has raised economic issues, he said that it is a very conscious decision by the Congress and we have not been forced. But we are more committed to the welfare part of the development agenda and not so much worried about the growth part.
Jairam Ramesh: we have beaten the BJP to the manifesto, now all they can do is to copy us. #AskJairam http://t.co/nsxBZdhl1c

— CNN-IBN News (@ibnlive) March 27, 2014
Jairam Ramesh: A welfare state without any growth becomes a farewell state. http://t.co/nsxBZdhl1c join the discussion here #AskJairam

— CNN-IBN News (@ibnlive) March 27, 2014
"Why should we vote for a party which has not fulfilled any of its promises, not declared its Prime Ministerial candidate and not decided who is standing against Mr. Narendra Modi?" asked Nasir, a participant in the Hangout. Jairam Ramesh responded to the question by saying, "Our elections are not for electing prime ministers. They are fought for the parliamentary system". And speaking about unfulfilled promises, he commented that two major promises that the INC was unable to comply with are the Prevention of Communal Violence Bill and the Goods and Services Tax and the only reason behind it being the Bhartiya Janta Party (BJP).
Jairam Ramesh: communal violence bill wasn't passed because of BJP and GST was sabotaged by @narendramodi. #AskJairam http://t.co/nsxBZdhl1c

— CNN-IBN News (@ibnlive) March 27, 2014
About Right to Entrepreneurship:
The Congress manifesto of 2014 includes the Right to Entrepreneurship. Elaborating it, Jairam Ramesh explained that everybody has the right to carry out his or her business without any opposition or harassment, be it a hawker, a vegetable vendor or an IT Company. "India is a country of entrepreneurs of different varieties. We ensure everyone a right to livelihood security," he said.
Jairam Ramesh: A hawker is as much an entrepreneur as an industrialist. #AskJairam http://t.co/nsxBZdhl1c

— CNN-IBN News (@ibnlive) March 27, 2014
About food security bill and Genetically Modified (GM) crops:
Another question addressed by a participant, Varun Ranjan to Jairam Ramesh was, "With so many loopholes and leakages in the Public Distribution System (PDS), how good are we in pushing the food security act without streamlining the PDS?"
Answering this, he said that reforms in PDS are very much an integral part of the food security bill. The reforms that include use of Aadhar, running of the PDS by women's co-operatives and local bodies, accountability to the local institutions and complete end to end monitoring of the supply-chain system, go hand in hand along with the implementation of food security bill. Enlightening about GM crops, he said that there is no ban on them, just a moratorium on BT brinjal. The doors are open for the genetically modified crops but we need to be extremely cautious about the use of food crops.
About Election Commission:
Jairam Ramesh: The elections commission cannot be a parallel govt. http://t.co/nsxBZdhl1c #AskJairam

— CNN-IBN News (@ibnlive) March 27, 2014
About rural development:
Another participant, Harsh Patnaik asked why the Information and Communications Technology (ICT), which brings in transparency and effectiveness, has not been implemented enough for rural development. Ramesh said the biggest ICT programme in India is the Mahatma Gandhi NREGA. The use of ICT in the programme has ensured better transparency and faster release of funds. He also said that broadband connectivity will be there in all the Gram Panchayats in 2 more years. It was supposed to come in April 2014 but it has been delayed.
About Secularism:
Jairam Ramesh: In our country secularism does not mean irreligion, but respecting all religions. #AskJairam http://t.co/nsxBZdhl1c

— CNN-IBN News (@ibnlive) March 27, 2014
About Congress:
On asked, "Is there a divide between the UPA government and the party?"
Ramesh said there are no cracks in the government and the party. It is the party itself that forms the government unlike others who ask for votes for a single individual. Congress' is a party-based politics while BJP's is an individual-based politics. We do not have a one-man agenda.
About BJP and Narendra Modi:
Jairam Ramesh: BJP's agenda is to make @narendramodi the PM. Whereas we are reaching out to the masses. http://t.co/nsxBZdhl1c #AskJairam

— CNN-IBN News (@ibnlive) March 27, 2014
Jairam Ramesh: Gujarat shining will have the same fate as India shining. http://t.co/nsxBZdhl1c #AskJairam

— CNN-IBN News (@ibnlive) March 27, 2014
Jairam Ramesh: if there's a democrat it's Rahul Gandhi and if there's an autocrat it's Narendra Modi. #AskJairam http://t.co/nsxBZdhl1c

— CNN-IBN News (@ibnlive) March 27, 2014