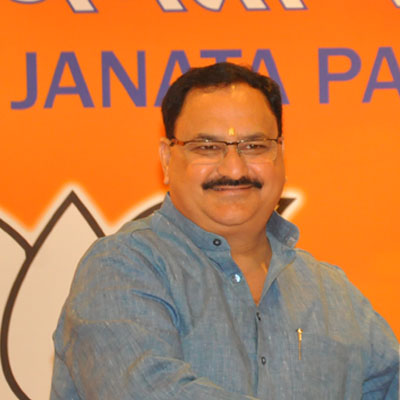 Bharatiya Janata Party (BJP) General Secretary Jagat Prakash Nadda who shares a close bond with Narendra Modi is touted to be the next party president.
With reports floating around that the current party president Rajnath Singh set to get the Home Ministry portfolio, the BJP leaders today in a meeting are reported to have chosen Nadda as the next party president.
Top BJP leaders Amit Shah, Uma Bharti and Nadda had met with Narendra Modi at Gujarat Bhavan in Chanakyapuri. Amit Shah later met Rajnath Singh.
Nadda had earlier worked with Modi when Modi was the general secretary of Himachal Pradesh-the home state of Nadda. He is said to enjoy the support of top Rashtriya Swayamsevak Sangh (RSS) leaders too.
Nadda was the Cabinet minister for Environment for Himachal Pradesh from 1998-2003 and then 2008-2010. He is the BJP's Rajya Sabha MP from Himachal Pradesh since May 2010.
Nadda shares similar political beginnings like Narendra Modi.
He started his political career in 1975 during Jayaprakash Narayan movement. He joined the Akhil Bharatiya Vidyarthi Parishad (ABVP) and went on to win elections to be appointed as the Secretary of its Patna University unit in 1977. He later held key positions within the ABVP.
He was given the election-in-charge of the BJP's youth wing in 1989 and later in 1991 became the National Secretary of the BJP's Yuva Morcha.