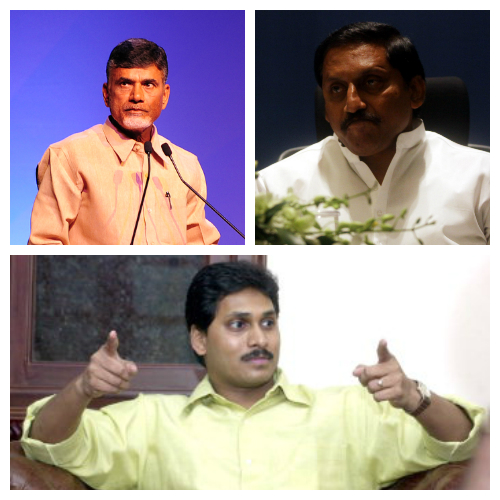 Asserting that participating in the debate on the Telangana Bill will tantamount to accepting to the division of the State, YSR Congress chief Jagan Mohan Reddy on Wednesday demanded the Andhra Pradesh Chief Minister Kiran Kumar Reddy and Leader of Opposition in the state assembly N Chandrababu Naidu to pass a resolution in favour of a united state
"I demand that the Kiran Kumar Reddy and N Chandrababu Naidu should take initiative and move a resolution in favour of a united state instead of running away from the situation and keeping themselves away from the Assembly which is session," YS Jagan Mohan Reddy said while addressing a public meeting here
"The Chief Minister and Leader of Opposition who have taken to absenteeism to important meetings and assembly sessions should come forward and move the resolution. Chandrababu Naidu has been encouraging his MLAs to play according to their regional affiliations and he is not to be seen in the house while very important issue has come up," he added
Jagan Reddy also alleged that Congress president Sonia Gandhi is dividing the state to see her son as prime minister and Kiran Kumar Reddy and Chandrababu Naidu are helping her out to achieve her goal
"The entire nation has understood that injustice is being done to Andhra Pradesh but Kiran Kumar Reddy and N Chandrababu Naidu are unable to get a grasp of the situation," he said
Brushing aside the criticism against his Party for not participating in the discussion, he said, "If we participate in the debate it means that we are accepting the proposal for the division of the State. Our Party stands for a united and strong state and I demand that the Chief Minister and TDP leader should move a resolution in favour for a united state and let Delhi know the aspirations and feelings of the local people.
"Delhi has been taking us for granted. In normal course state assembly will pass a resolution which will be sent to Centre and a draft Bill will be sent to state for discussion. In our state things are happening differently. Delhi has taken a decision to divide the state without the consent of our assembly and has sent a Bill asking us to discuss and send it back," he added
The union cabinet has approved the creation of a new Telangana state, but the Andhra Pradesh Government is against it
The decision to break up Andhra Pradesh and establish a new state of Telangana comes ahead of upcoming general elections, and critics say the Congress party is seeking to shore up its political fortunes after dragging its feet over the explosive issue for four decades
The proposal was received with mixed emotions across the state, with various politicians opposing the bifurcation
Supporters, however, say Telangana's economic development has been neglected in favour of the richer and more powerful Andhra region, and that a new state is the only solution
Hyderabad, India's sixth largest city was a bone of contention because it fell in the proposed new state carved out of the western part of Andhra Pradesh.