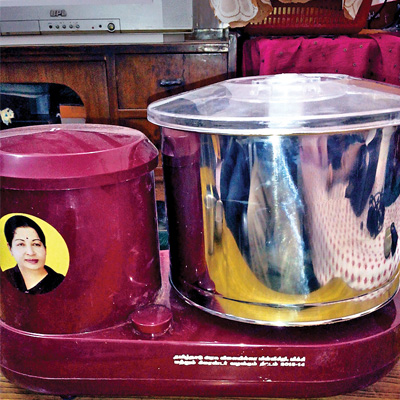 Amma Table-Top Wet Grinder (ATTWG) has made its maiden appearance in Delhi.
In Tamil Nadu, it's a freebie, one of many, including mixies and table fans, with which Tamil Nadu chief minister J Jayalalithaa hopes to make it to 7RCR.
But the ATTWG that arrived in Delhi within days of Amma announcing her PM ambitions has come for a price. Delhi housewife Sumathi paid Rs1,400 for the contraption that makes idli-making a piece of cake.
Amma knows her idlis and dosas well, as she does her voter. She also knows that the way to a woman's heart is through her kitchen. And that to a man's, is through his stomach. Wet grinders are the means to that end. So, a vote-catching Amma (read AIADMK) has started distributing wet grinders for free.
Now, every ration-card holding household in Tamil Nadu has an ATTWG. And with many of them carrying more than one ration card, there isn't enough space left in the kitchen for wet grinders. So these ATTWGs are being sold for whatever amount they fetch, and some of them are making their way to other states.
Sumathi got hers from an Indian army jawan who is from Tamil Nadu's Madurai district. "He went home on leave and found three wet grinders sitting in his mother's kitchen, two of them dry as a pin in their "Amma" package," says Sumathi's husband, who is a friend of the jawan's brother.
The 2-litre wet grinder looks sleek and for Rs1,400, it's a steal. Sumathi always coveted one. Grinding rice and urad daal for idlis and dosas is back-breaking work and a wet grinder is godsend for any housewife.
"I paid the jawan... he was glad to make a few bucks. Now everyone in my office wants one," says Sumathi's husband, who has never set eyes on Amma. For that matter nor has Sumathi, who now feels beholden to Jayalalithaa for the dream come true.
Karunanidhi's Kaliagnar TV for every household did not fetch votes for DMK the last time. But that was not the TV's fault. It was just that it did help bring home the 2G scam to every household. People scrambled to get their hands on one but still voted for Amma.
"Amma knows her freebies," says Chennai-based political analyst Ramanathan Swaminathan. "Where Karuna went to woo the household with his Kalaignar TV, Amma is aiming for the housewife's heart and her husband's stomach. She's also giving away mixies and table fans by the thousands. These will fetch her votes and seats but everything will depend on how much cash she doles out on poll-eve. Cash is the clincher."
ATTWG is manufactured in Tamil Nadu's Coimbatore and Dharmapuri districts, says Swaminathan. The majority of these freebies have found their way to local kitchenware shops in every TN district, from where they are sold. But with possibly every household in TN equipped with am ATTWG, they are finding their way to markets in other states. In Delhi, a 2-litre table-top wet grinder costs anything between Rs4,000-Rs5,000.
No wonder Sumathi is thrilled. Now all she needs is lots of sambhaar powder. May be Amma will bring that along when she makes it to 7RCR.
AMMA DOLES IN TAMIL NADU
Amma Breakfast: Rupee one for one Idli, with dollops of sambhaar and chutney
Amma Lunch: Three varieties of rice preparation, sambhaar rice, lemon rice and curd rice @ Rs 5 a plate
Amma Dinner: Three to four chapatis with two vegetable dishes @ Rs 3
Amma Vegetable Shop attached to every civil supplies outlet, where vegetables are straight from the farmer to the consumer
Amma has also promised a bicycle and laptop to all 18-year-old youth