Rahul says he's saddened, party calls TN move 'irresponsible, perverse and populist'.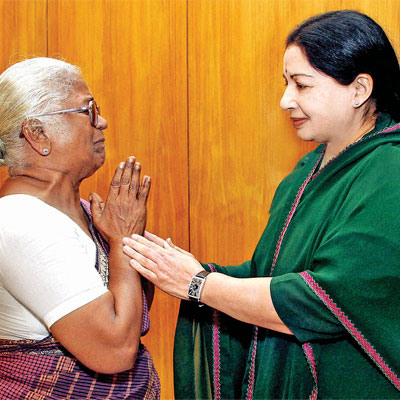 Tamil Nadu chief minister J Jayalalitha's decision to release seven people convicted in the assassination of former prime minister Rajiv Gandhi has sent Congress party in another tailspin after Telangana row, exposing gaps between its central and state leadership. Soon after the finance minister P Chidambaram played to galleries back in Chennai, saying he was not unhappy with Jayalalitha's decision and didn't find it as a cynical decision or politics, he was snubbed by the party and no less than the vice-president Rahul Gandhi.
Even as Chidambaram's statement started relaying on the TV channels, an upset Rahul Gandhi hit at those seeking remission of sentences, asking, "if a prime minister's killers are being released, what kind of justice should the common man expect? Clarifying, while he was against death sentence, Rahul said he was saddened at the Tamil Nadu government's decision. "Rajiv Gandhi's killers are being set free, I am saddened by this. I am personally against the death penalty but this is not about my father," he said.
The convicts have been in jail for 23 years. One of them, Nalini Sriharan, was granted mercy in 2000 on the intervention of Congress president Sonia Gandhi, mother of Rahul. On Tuesday, the Supreme Court had commuted sentences of three convicts, Nalini's husband Murugan, Santhan and Perarivalan, to life sentence, citing the 11-year delay in decision on their mercy pleas. The court had left it to the Tamil Nadu government to release them. Chief minister Jayalalithaa acted fast, and gave the Centre three days to respond to her decision, after which, she said, she would invoke her own powers to free the convicts.
Sources in the Congress party said there was "no question of letting off the assassins of a prime minister." They indicated that the Central government would be asked to seek a judicial review of the Jayalalitha decision. Asked about the stand of Tamil Nadu unit of Congress and more so their own finance minister, who said he was not "unhappy" with the decision, senior leaders hit out at Chidambaram, saying he was playing to the galleries in Tamil Nadu ahead of elections. "We are a national party and have to abide by national interests. He (Chidambaram) seems focused on his constituency," they said.
Congress party officially also denounced the Jayalalithaa government's decision, calling it "irresponsible, perverse and populist." Like in Andhra Pradesh, where party's central leadership was caught on a wrong foot, and for the first time the state leaders decided to defy party high command even party president Sonia Gandhi, Congress Tamil Nadu leaders are also finding it difficult to toe party's national stand, keeping in view the pro- Lankan Tamil sentiment in the state. Congress spokesperson Abhishek Singhvi said, "Any perverse decision is also liable to judicial scrutiny."
He insisted that there is a fundamental difference between commutation of a sentence and release or remission. The party has already made it clear that it has no issue with the apex court order commuting the death sentence of Rajiv killers to life imprisonment. "Every state has powers of remission but these are the powers, which are to be exercised by constitutional functionaries" in the light of rules and regulations and the spirit of any judicial order," he said.