With onset of the Chilai Kalan in Valley, mercury is plumenting to a new low with each passing day.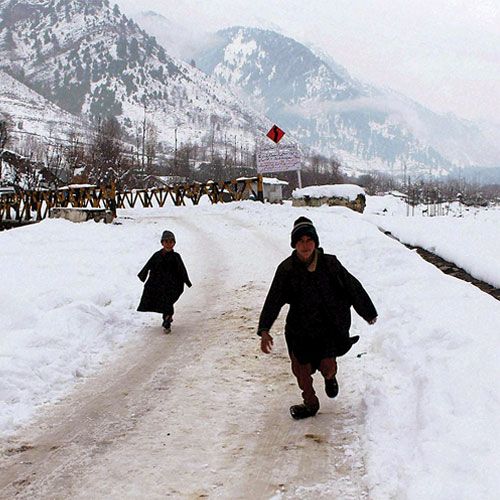 Chilai Kalan is making his presence felt in Jammu and Kashmir with temperature plummeting to minus 14.1 degrees Celsius in cold desert of Leh and minus 7.4 degrees Celsius in the famous ski resort of Gulmarg Wednesday night.
Leh shivered in the second lowest temperature of the season when it recorded minus 14.1 degrees Celsius on Wednesday night. The lowest so far in this season has been minus 14. 2 degrees Celsius recorded on December 14.
Gulmarg too recorded second lowest temperature of the season with minus 7.4 degrees last night. On Tuesday night the ski resort had recorded the season lowest temperature of minus 9.3 degrees Celsius.
Health resort of Pahalgam too shivered in minus 2.4 degrees Celsius.
Water bodies in Leh have frozen due to the intense cold wave conditions in the area.
Temperatures plummeting to such levels are not new for the cold desert of Ladakh.
On December 26, 2009 Leh had recorded minus 19.4 degrees Celsius temperature. The lowest temperature ever recorded in Leh was on December 25, 1937 when the cold desert recorded minus 25 degrees Celsius.
"Good thing about Ladakh is that despite the lowest temperature there has not been any cold related death. It is because the people are well prepared for the winter," said Sonam Lotus, director Meteorological Centre Kashmir.
Rigzin Spalbar, chief executive councilor of Ladakh Autonomous Hill Development Council, Leh, said weather in the day is very pleasant and it is during morning and evening that there is cold. "Seeing is believing and you should come to experience it," he said.
Chilai Kalan is the 40-day period starting December 21 which is considered harshest phase of winter in Kashmir. There are two more Chilias -- Chilai Khurud and Chilai Bacha – following the Chilai Kalan and ends their tenure before March when schools reopen in Kashmir.
Qazigund, the gateway town to Kashmir Valley, recorded a low of 0.2 degree Celsius, same as the previous night.
Kokernag, in south Kashmir, which recorded a low of minus 3.6 degrees Celsius on Wednesday previous night, registered a low of minus 0.2 degree Celsius on Wednesday night.
Kupwara, in north Kashmir, recorded a minimum of minus 3.0 degrees Celsius compared to minus 1.1 degree Celsius.