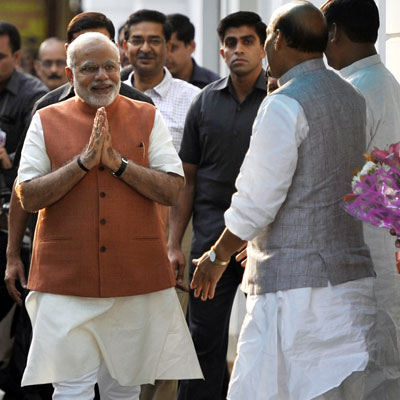 Over 3000 people gathered at the Kodyadka Annapoorneshwari temple, situated about 40 kilometers from Mangalore to pray for the health and security of Prime Minister Narendra Modi on Sunday.
The management of the temple, headed by Jayaram Hegde, had organised three different religious events to attain
"divine blessings" for the prime minister.
"We performed the 'Gana Homa' for ridding Modi from all ill will, Chandica Homa to protect him from bad powers and the Mahamrutyunjaya Homa so that he is blessed with a long and healthy life. The religious offerings and prayers are sure to yield results, as over 3000 people have prayed in unison," Hegde told dna.
Hegde, who has been to different countries, said, "I got the opportunity to travel to different countries. I do know that the perception of India has changed in the world after Modi became the prime
minister. Religious leaders like Visveshathirtha Swamiji of the Pejavar Math of Udupi attended the poojas, to pray for the well-being of our prime minister."
Speaking to dna, Pejavar Swami told, "Modi is truly a popular prime minister, as he won a majority. Under his
leadership India will see an all round development. Therefore, every Indian should pray for his success, as he does not belong to any party now, but to the entire country."
The devotees flocked from all over the Southern districts including Udupi, Uttara Kannada, Mysore, Bangalore, Chamarajanagar, Shimoga, Chikmagalur and Hassan, filling every hotel room, choultries
(free accommodation provided by temples) in Moodbidri, Udupi, Dharmasthala and Kateel. All the 3000 devotees were given the Anna Prasadam (mass feeding).