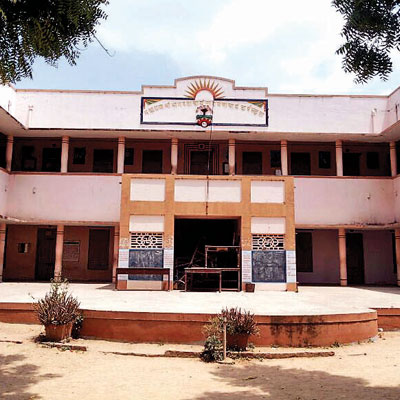 Friday witnessed the narrow lanes of Vadnagar preparing for major celebrations. Vadnagar — a small town with a population of just 27,000 voters and the birthplace of Narendra Modi, witnessed a Diwali-like atmosphere with electric decorative lights put up everywhere. With unpreceedented victory for BJP, people took out a huge vijay-yatra to mark the success of their son-of-the-soil.
On entering Vadnagar, one could sense the celebratory mood. "We have kept everything ready like Modi masks, flags, sweets in large quantities and fire-crackers," said Sunil Mehta, civic body chief of Vadnagar.
A walk in the narrow lanes indicated how middle-class families too expressed their happiness by distributing jaggery pieces to all passers-by. According to a rough estimate, nearly 500 kgs of sweets were prepared for distribution, out of which nearly 150 kgs came from households.
Not only this, the town's Hatkeshwar temple from where the procession kicked off, was ready to welcome its son. However, the visit did not materialise.
People associated with Modi were more than happy to share their feelings with dna:
Jasud Pathan: Modi's friend from Class 1 to 11:
"He was good Kho-kho player during school days," recalled Jasud Pathan, 65 years, now retired. Known as ND among his friends during school days, Modi was active in extra curricular activities. While many students used to work hard towards studies, he used to research on various subjects to participate in debate. Interestingly, till today Pathan writes letters to Modi and he makes it a point to reply all the letters. When questioned on the exchange of letters, if happens to recall memories, Pathan instantly replied, "Its basically to discuss development of Vadnagar. I write letters to inform him about the issues or the development required in our town and he instantly gets it done.
Dr Sudhir Joshi, Childhood friend of Modi:
Recalling the childhood days, friend of Modi, who studied with him from primary classes till college first year, Dr Sudhir Joshi said, "when we were in Class 9 during the year, he came to me and shared that he had filled up form for class representative position. I tried to convince him that we have been sent to school for studies and not for such activities. But, he was determined to contest for the position
and also got elected," Joshi shared the same bench as Modi in school and used to be together even after school for studies and sharing the food. He also recalled that in 2010, when he met Modi, he had shared his plans of moving to Delhi. "I asked him on a lighter note, if there is no work left to be done in Gujarat. He said he has made all arrangements for Gujarat before leaving."
PG Patel, Modi's Sanskrit and Hindi teacher:
I taught him in class 10 and 11 and he was quite good in studies. Now when I look back, I always think of the day when he had thanked me for encouraging him to hone his oratory skills. As far as his childhood is concerned, he participated actively in debates and plays when he was studying at BN High School. He was always the one who helped others in studies, stayed back after school hours to refer to library books and worked on his language skills. Today, he is considered a good speaker only because he has a good command over the language.
Arvind Modi, Narendra Modi's cousin
"I am extremely happy that my younger brother has made it to the prime ministerial position. It feels great to see him on television and newspapers." Talking about his childhood days, he said, "I still remember how in childhood he was naughty, yet in good books of all teachers for his extra curricular activities, especially in drama competition. We used to go together to the hotel, where he used to sell tea and was participated in every function of the house."