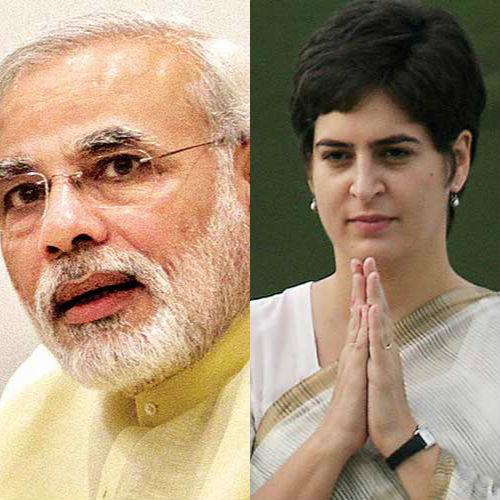 The Lok Sabha Elections 2014 are turning out to be a face-off between Congress' Priyanka Gandhi and BJP's prime ministerial candidate Narendra Modi.
After Modi targetted the Gandhi family time and again in his speeches and Rahul Gandhi was not able to match up to his war of words, Priyanka has taken over the defensive guard for the party.
She targetted Modi at her rallies and also asked people to refrain from targetting the Gandhi family and her husband Robert Vadra.
She told Modi to stop lecturing and using terms such as RSVP and ABC. Modi had used the terms to attack the Congress family over corruption and incumbency charges.
As the seventh phase of elections come closer, the battle between these two is set to intensify further.
Read: Stop lecturing, Priyanka Gandhi tells Narendra Modi
Priyanka Gandhi Vadra Friday attacked BJP's prime ministerial candidate Narendra Modi, saying he should stop using expressions like "ABC" and "RSVP" as he was not addressing educational institutions but the country's people.
"You must be hearing in the television, sometimes ABC sometimes RSVP and sometimes 'da se desh and ka se kawa. Kabhi ba sey bass bhi toh kariye' (You talk about the country, the crow, but sometimes you should stop also). "You (Modi) are not addressing an educational institution but instead the public of a country," Priyanka said while campaigning for her mother and Congress chief Sonia Gandhi here.
Modi in his election rallies had earlier said that the country runs on RSVP (Rahul, Sonia, Vadra and Priyanka) model and the Congress party had made ABC - A for Adarsh scam, B for Bofors scam and C for Coal scam as its party symbol.
Read: Vote Congress to ensure further development of Rae Bareli, says Priyanka Gandhi
Sonia Gandhi's daughter, Priyanka Gandhi Vadra, on Friday, called on the people of Rae Bareli to vote for Sonia Gandhi to ensure that development works are not stopped and are taken forward.
"She has been an MP here for the last ten years and worked here. These relations goes back to the days of Indira Gandhi and Feroze Gandhi. During her tenure as MP, a lot of work has taken place. Roads have been constructed, electricity poles have come up. Technical institutes and a rail coach factory have been built. An AIIMS –like hospital is set to come up. The coming up of the factory has indirectly helped farmers and others, as they have got better returns. These efforts will remain unstoppable if you vote for Sonia Gandhi," Priyanka said at a public rally held here.
She also used the occasion to indirectly attack BJP prime ministerial candidate Narendra Modi and his espousal of the Gujarat model of development.