During three terms when the Congress swept elections, Lok Sabha didn't have one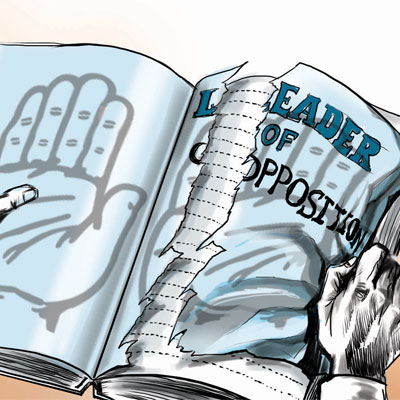 If the Bharatiya Janata Party (BJP) takes a leaf out of the Congress' book on the Leader of the Opposition issue in the Lok Sabha, the House can even go without the post.
In 1971 (fifth Lok Sabha) and from 1980 to 1989 (seventh and eight Lok Sabhas), when the Congress swept the elections, leaving no opposition party with at least 10% seats, there was no Leader of Opposition in the Lok Sabha.
The BJP is in a similar position now with the Congress tally at 44 -- 10 seats less than the 55 required to get recognition for the post of Leader of Opposition.
But the government is likely to leave the decision to the Speaker's discretion. Sources said it may be left to the Speaker to take a call after consulting legal and constitutional experts.
Minister of state for parliamentary affairs Prakash Javadekar said on Friday that the government was studying the provisions and the issue "will be sorted out" before June 4.
In 1971, when the Congress got 352 seats, the CPM, with 25 seats, was the largest opposition party, followed by the CPI (23). In 1980, the Congress had a landslide victory and the largest opposition party was Charan Singh's Janata Party (Secular), which won 41 seats.
In 1984, after Indira Gandhi's assassination, when the Congress again swept elections, NTR's Telugu Desam Party (TDP), with 30 seats, was the second-largest party.
Though the position of the Leader of Opposition first came into being in 1969, it got statutory recognition in 1977 through the Salary and Allowances of Leaders of Opposition in Parliament Act.
The BJP, according to sources, may be flexible on the Leader of the Opposition issue. The opposition leader serves on several important committees, including selection panels for Chief Vigilance Commissioner, CBI director and Lokpal members.
In the absence of a Leader of Opposition, the leader of the single-largest party functions as leader of a bloc but does not receive official allowances.
While the government may be open to the idea of an opposition member for the post of deputy speaker, like BJP's Karia Munda during the UPA regime, it's likely to consider changing some governors, sources said.