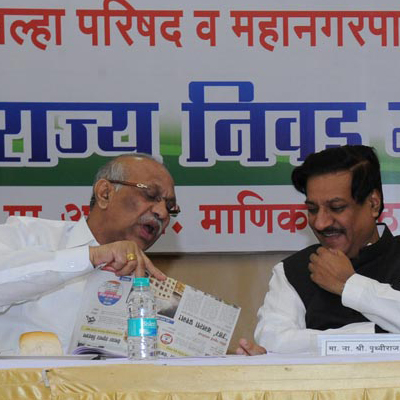 Vilas Muttemwar, 65, is the sitting MP and Congress candidate from Nagpur and former Minister of State for New and Renewable Energy. He has been an MP for seven terms, four of which have been from the Nagpur constituency. Muttenwar is known for his support for a separate state of Vidarbha and for being the pioneer of the MIHAN project, a venture worth thousands of crores of rupees, aimed at transforming Nagpur's airport into a major cargo hub with a connected SEZ.
This is your seventh term as an MP. What are the achievements you're happiest about, when it comes to the constituency of Nagpur, and what are some of the things that you wanted to do but could not do?
This is the seventh time, but from Nagpur this is my fourth time. Earlier I was representing Chimur (a Lok Sabha constituency which became Gadchiroli-Chimur, after delimitation, in 2009) which was a constituency adjoining Nagpur. Nagpur is an urban constituency and over 16 years I have identified the problems of the urban constituents, which are local requirements like water, roads and flyovers.
Fortunately, from 1999, in Maharashtra, there has been a Congress government. And, in 1999, Mr. Vilas Rao Deshmukh became the Chief Minister of Maharashtra. And he was a good friend. And I said to him that: 'In the process of development, Nagpur has been neglected.' And: 'Please help us, with industry, because you are also from a backward region— Marathwada.' And he helped us. He gave us Rs 350 Crore under IRDP, that is the Integrated Road Development Programme. And so we developed the roads of Nagpur. And Nagpur found a new way ahead. It is now counted among the top 10 cities of the country.
Also, from 1985 itself, I pursued a dream. I realized Nagpur is crucial on the aviation route and it could be developed as an international airport and processing industries, value-added industries could be developed around it. Because around 400 international flights were flying on the skies of Nagpur and the local ATC (Aviation Traffic Control) was giving direction to those flights and if such a facility, such an infrastructure, such a logistic activity was developed— ultimately Nagpur would be developed. My idea got the support of Mr. Vilas Rao (Deshmukh). He became the 'Chairman' of this dream. And I was the 'Co-Chairman'. In 2002, this project was named MIHAN, the Multi-modal International (Cargo) Hub Airport at Nagpur. And then we got the techno-economic report. The international consultant, Larsen & Toubro, was appointed by the Government of Maharashtra. And they opined that this was the perfect location for such a logistic activity. And the work got started, though it was delayed because there were many problems. There wasn't space to develop an SEZ— you need 10,000 acres of land. There were many NOCs, Environment Concession, then the Commerce Ministry's nod.
But now the government has acquired 9,000 acres of land. It is developed, roads are constructed, the water scheme is completed and the power plant is completed. And now Infosys, Tata Consultancy Services, BOEING Inc... these are the projects underway, which, it can also be said, are an attempt to attract other projects. There is the Mahindra Satyam company too, and many companies from the IT sector. As you know, from 2006 to 2009-10 there was an international recession. And this project was also affected due to that. It was going at a snails pace, but now we can say that this project is taking off. According to one survey and projection three to four lakhs of educated people—unemployed and employed—will get jobs right up to 2020. I think this will make way for the prosperity of Vidarbha in general and Nagpur in particular.
There is another project, which is the international airport. The MADC, which is the company responsible for developing this project, are working with a strategic partner who will develop a world-class airport. Buildings will be constructed for this over nearly 14 lakh square feet. This will lead to the city being upgraded as an international city which will be a great attraction for visitors and for anyone who wants to live in a peaceful atmosphere. So we are very hopeful.
Also, now the Government of Maharashtra and the Government of India have passed the proposal to develop the Metro rail. An in-principle approval has been sanctioned. Nearly Rs 8,500 crore will be spent for 38 km in the first phase and in the second phase nearly 50-60 km will be completed and again Rs 12,000 crore will be spent. This will be a unique feature for Nagpur, that other major cities in the country could not do this but we could. This project has also been followed-up on and developed by me. Ultimately, you need some representative who can take care of the constant follow-up.
I am also responsible for having established Nagpur as an embarkation point for the Haj pilgrimage to Jeddah. Also, there is Rs 4000 crore I have brought in from the JNNURM. These are some of the things I could do for the people and I hope the people will support me. They know.
Coming back to the MIHAN project, what was the primary cause of delay? Mr. Vilas Rao Deshmukh had said that you had to write up to 5000 letters to the Civil Aviation Ministry, to the government of Maharashtra, to the PMO before the MIHAN project could begin.
As I said, from 2006 to 2010-11 there was economic recession. This project was also affected because of that. Ultimately it is up to the private entrepreneur to develop such a project, or not. That is not in my hand. What I can do is create the atmosphere— that the other people in the government are responsible, that they address the entrepreneurs' issues, that they offer incentives to the investors. What I am responsible for is asking the government: 'Did you do that? Why didn't you do that?' In Maharashtra there is no single SEZ like the MIHAN project. So many SEZs were declared but they could not shape up. So this is the only option now for many investors. And that is a great thing for the people of Vidarbha.
There was some opposition from local politicians with regard to land acquisition for the project, and outcry by some citizen's groups. Have those issues been resolved?
That is there for every project. They have been resolved. There is no dispute over the 9000 acres of land that is in the possession of the MIHAN project. Any dispute now is on the land for an alternate tramway and that is also being resolved. This is a mammoth project. Every time you take on something of this size, these kinds of difficulties will arrive.
You are one of the voices at the forefront, for the demand of a Vidarbha state. However, your party hasn't taken up this issue. How do you plan to action this?
I'm a staunch follower of the statehood of Vidarbha and, as a matter of fact, I have been so from the age of 14. I have been involved with the Vidarbha movement and although we have voiced this demand at every level, the Congress party never formally supported the idea of the creation of this small state. But now the majority of Congress members are supporting this cause. It's is a good thing that Telangana has been created. Now our one demand is for the creation of Vidarbha and we will follow that.
But do you have a concrete plan in place, as to how you're going to achieve this?
The agenda is with the party. It has supporters. We will campaign for it. The majority of people are of the opinion that there should be a separate Vidarbha. That's a good thing. That makes it a possible thing. We have to bring them in one line, talk to all the people and build up pressure on the government.
Is there any difference in contesting an election as an incumbent and as a challenger?
We can't define positions in this manner. Every time there are different issues. I am the candidate of a party which has been the ruling party from 1947 and they have ruled for the maximum time. That legacy is with me. This party is responsible for the country's freedom and it is responsible for whatever achievement we have today. Our nation is possibly the 'third power' in the world and now people are saying that it will be a superpower in the coming days. So this is not an election of an individual. This is an election of principles, an election of history, an election of political parties and their ideologies. And I have benefited from that. Just as an individual, people would not support me.
Since you're talking about the party, there is a sense of anti-incumbency at the centre. Will the anti-incumbency at the centre affect your standing as an MP for Nagpur in the upcoming polls?
No, still people believe in the ideology of the Congress. You would know that from 1947 to 1977 there was only the Congress that won. There is no significance of this anti-incumbency because people want a party which can unite this country and take all sections, all religions, all people together. How to be able to do that is the great problem of this country.
This time you have two high profile candidates against you. One is Mr. Nitin Gadkari, another is Ms. Anjali Damania. Why should people vote for you over your opponents?
For the last 35 years I've been winning elections as a Lok Sabha candidate. Anjali Damania is a voice against against corruption. The BJP also says, "Bhrashtachar mitane ke liye Modi sarkar (A Modi Government to erase corruption)."
Now, in 35 years nobody could level a single charge against me. That is very significant and a very important thing. That is the one thing I'm going to the people with: 'Here is your representative who is not involved in any kind of corruption.'
And on the contrary, the other candidate, who is very high profile, he was the President of the BJP, one of the highest posts of the BJP, and he was going to be re-nominated as the President again. Why couldn't he become the president again? What was the reason? Who had opposed him? He was opposed by his own party men, all his followers. When he was rejected by his own people, how he will be selected by the people of Nagpur?
A few days ago there was an EC raid at premises owned by you. Reports claim that you alleged that Mr. Gadkari was behind this. On what basis have you made this allegation?
That was so surprising. The raid was at the place of my son. And you must've seen the reports saying that only Rs 5,70,000 was lying there. And this is not a big amount. And the action was taken on the basis of one false SMS. So who had sent the SMS?
Also, certain rules are there. They could have informed me that they were going to search the premises. They hadn't informed me or my son. In our absence they wanted to open the lock and search the premises.
And when they finally did so, they found just Rs 5,70,000. We have got 70-80 workers on a contract basis. The financial year has just ended and they expected a big bonus and that's why the money was kept there. There is a rule that says that if you have an amount of more than Rs 10 lakh, then they can seize it. But they have seized just Rs 5,70, 000 and lodged cases against us. And on the other hand Gadkari is spending crores of rupees. Everywhere, after his meeting, he offers lavish lunches, lavish dinners. Does this not come under the khaata-paisa (accounts for election funds)? He's distributing so many things. People know what he's doing. But the Election Commission doesn't want to take action against him. They've not filed any case against him.
Coming back to the news reports, you alleged that there was an intent to plant money during the raid, in order to be able to frame you for being in violation of EC rules. Also that Mr. Gadkari was behind this…
There were two incidents on two days. On the first day, the officer in charge (Election Observer D G Pansari) was sitting outside my premises in a car and he was directing the other junior officers. But he did not approach the premises himself. And when my people said the raid would have to be conducted in their presence, if not in the presence of the master of the premises, then he left instead of waiting. If he was sure of there being money in the office, why did he not insist on raiding it there and then in front of them?
And the next day this officer, who had wanted to take action, did not turn up. He refused to come till much later when we demanded that he be present when the premises was searched. Why did he not come in the beginning?
They probably thought that Madam Sonia Gandhi is coming, she is campaigning here, and so a lot of money would be kept there which is being distributed. That wasn't the case. It isn't as if they have found Rs 2 Crores or Rs 3 Crores. They just wanted to spoil my election.
But how do you substantiate allegations that Mr. Nitin Gadkari was behind this?
What was the need to take action on a mere SMS? What I'm telling you (about over-spending), this is openly going on in the premises of Gadkari. We have complaints about all these unfair means that are being adopted. Why aren't they taking action there? Also, the officer (Pansari) is from Gujarat.
Do you feel that there is a difference between this particular national election and the ones you fought earlier?
Yes, earlier there was a fight between two political parties. One would say: 'Congress ko vote do (Give Congress your vote)', Another would say: 'BJP ko vote do'. But now they say, 'Ab ki baar, Modi Sarkar (This time, vote for Modi's Government)'. They have concentrated all the campaigns on Modi. And in Nagpur this is a fight not with the BJP but with the RSS, because Mr. Gadkari is a candidate supported by the RSS.
Do you feel this support from the RSS will affect your chances?
He is being supported by them and being projected by Mr. Mohan Bhagwat. But Nagpur is the place where Mahatma Gandhi had stayed in 1920. Dr. Babasaheb Ambedkar had taken the diksha for his Buddha dharma here in Nagpur. Progressive people live here, who oppose the communal ideology, the RSS ideology, and they are in the majority.
According to you, had the RSS supported the BJP candidates in your previous Nagpur elections?
No because he (Gadkari) is from the RSS. The earlier BJP candidates were not from the RSS. If you see a recent edition of the Times of India, you will find that Mr. Gadkari is wearing a half-pant and carrying the danda (staff).