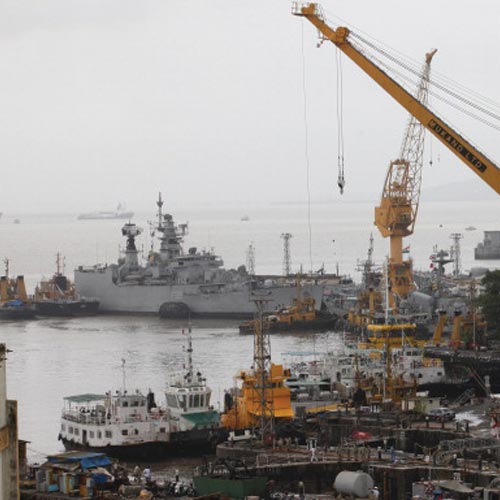 More than six months after its submarine sank in the Mumbai harbour, the Navy on Tuesday said it was close to finalise a contract to salvage the vessel which was expected to be moved out of water in another four months.
The sinking of the vessel has also resulted in the Navy to seek upgrades and life enhancement of its four Kilo class Russian and two German HDW class submarines, Navy sources said here.
The file regarding the contract for salvaging the vessel has been sent to the Defence Ministry and it is expected to be sanctioned by it very soon, they said.
Navy's Russian-built INS Sindhurakshak submarine had sunk on August 14 last year in its harbour after an explosion in its torpedo section killing all the 18 personnel on board and its salvaging would help the Navy to complete its inquiry into the reasons behind the incident.
The foreign vendor has sought 45 days to bring his heavy instruments to the accident site and another three months for salvaging the vessel and putting it in a dry-dock, they said.
Soon after the mishap, the Navy chief had stated that the inquiry would be completed in four weeks but later it was realised that it would not be possible to do so without bringing it out of water.
After the mishap, the Navy is now going for upgrading the capabilities of its four Russian-origin Kilo class vessels and two HDW submarines.
They said the sinking of the Sindhurakshak has not resulted in putting extra burden on the remaining vessels.
The force was also close to finalising the contract for procuring deep sea rescue vessels, which will be useful in rescuing submariners in case of a mishap in deep sea to evacuate them.
A submarine will be showcased in the Navy tableau at this year's Republic Day parade.