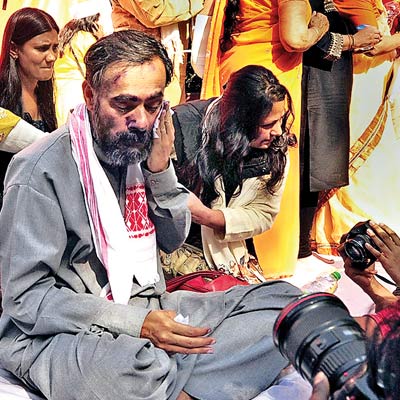 Aam Aadmi Party's (AAP) senior leader Yogendra Yadav's face was smeared with ink on Saturday afternoon in New Delhi by a man identified as Sagar Bhandari who was then quickly taken away by the Delhi Police.
Yadav asked the police not to take any action against the man.
The incident took place when Yadav was addressing the media at an event to mark International Women's Day at Jantar Mantar. A man came from behind and smeared ink on his face while shouting, "Bharat mata ki jai."
"I was not even able to see the person's face. I am not embarrassed by the ink on my face, its just an act of cowardice," said Yadav while praising AAP volunteers for remaining calm. "We should expect such incidents, its the beginning of change in India. A small party taking on years of corruption and decay."
Bhandari was taken to the Parliament Street police station for questioning. Unconfirmed reports say that he is an AAP worker.
Reacting to the incident, the party's national convenor Arvind Kejriwal said: "They will do all this. When one is on the path of truth, such problems are expected."
The incident was condemned by BJP and Congress leaders.