Second tiger cub dies in zoo in less than a week, third critical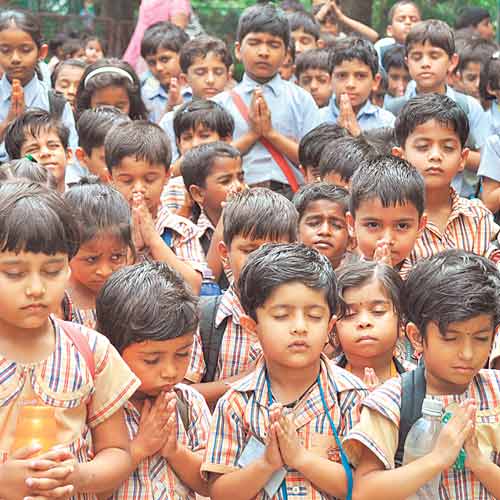 Attired in their school uniforms, over 250 children from St. Thomas School in Dewas were all excited as they walked into Kamla Nehru zoo on Thursday morning. They had been told that a tigress had given birth to three cubs. Their excitement however turned into gloom as the news came across that the second of three cubs too had died early in the morning and third one was battling for life.
The children then gathered outside the tigress' cage. Hands folded and eyes closed, they prayed for the survival of the third cub, a female, who had suffered spinal cord paralysis after her mother injured her with her teeth. "The cub's survival chances are grim," said zoo incharge Dr Uttam Yadav.
The second cub, also a female, died at around 6am on Thursday while a male cub had died on Sunday. The cubs belonged to a 14-year-old tigress Kamlesh and 21-year-old tiger, Shyamu.
According to the preliminary post-mortem reports of the cubs, the deaths were caused by poor maternal care. "Internal organs of both the cubs were damaged due to lateral pressure, which indicates that the mother had been unable to take their proper care," said Dr Yadav. "Also, the tigress did not feed the cubs properly and injured all of them with her sharp teeth," he added.
After their birth on October 4, all three cubs were rejected by their mother and she had even refused to feed them. This had made the zoo officials worry about the newborns' survival.
"Colostrum (first breast feeding) is necessary for the cubs as the mother's milk contains antibodies which protect the newborn against diseases. However, if the tigress rejects the cubs due to change in hormones or not being able to produce milk or any other reason, the cubs can be saved by bottle-feeding them," said dean , College of Veterinary Science & Animal Husbandry, Mhow, Dr UK Garg.
Despite zoo officials feeding the cubs with bottled milk and taking their special care, two of them didn't survive. The officials had even kept the cubs away from public view as human interference often leads to rejection of cubs by their mother. The officials said that in the case of a tigress giving birth for the first time, survival of the cubs is always doubtful.
"Chances of death are maximum in the case of first time delivery, as mothers often tend to reject the babies," added Dr Garg.