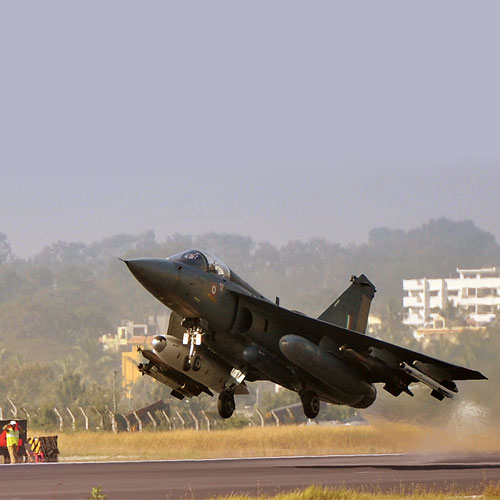 Light combat aircraft (LCA), Tejas, received the much-awaited initial operational clearance on Friday. The clearance paves the way for the full-scale production of the fighter jet from next month.
Although the jet will be ready for combat operations by end-2014 or early 2015, once it gets the final operational clearance (FOC) by the Centre for military aircraft airworthiness and certification to take on the enemy.
The FOC will equip Tejas with in-flight refuelling, beyond visual range missiles, new close combat missile, additional weapons and new drop tanks for supersonic flight. The indigenously built aircraft will replace the ageing MiG 21 fleet by 2019.
Each 9,800-kg Tejas aircraft costs about Rs200 crore and has a top speed of 1,350 kmph. The aircraft has a lifespan of 30 years. The defence ministry has set aside a budget of Rs14,000 crore for the project.
"The capabilities of the aircraft have been improved significantly in the last three years," said defence minister AK Antony at an event at the HAL complex in Banagalore.
"This is a milestone. It signifies India's entry into a select group of nations capable of designing their own state-of-the-art fighter aircraft," said IAF chief NAK Browne.
"The production facilities have been set up at HAL and the aircraft delivery is expected to start from 2014. We will initially produce eight aircraft per year. Further plans are afoot to enhance the production to 16 aircraft per year," said RK Tyagi, chairman of Hindustan Aeronautics Limited, which developed the LCA.
Slim fighters to replace MiG 21s
Tejas can fly at a speed of more than 1,350 km per hour and can be compared to some of the world's best fighter aircraft — the Mirage 2000, F-16 and Gripen fighter jets.
It is expected to cost about Rs200 crore per aircraft initially
The LCA will now (after the initial official clearance) be called Tejas Mark I. It will be called Tejas Mark II after final operational clearance (FOC) slated for end of 2014.
LCA, named Tejas by the then prime minister Atal Bihari Vajpayee in 2003, had received the first initial operational clearance in January 2011 when IAF had expressed various reservations and sought modification
The single-engine light weight state-of-the-art fighter aircraft will replace the ageing fleet of MiG 21s from the IAF and will be fully operational after attaining the FOC scheduled for the end of 2014.
Tejas has a unique record of being accident or incident-free during its 2,400-odd test flights for over 3,000 hours since its maiden sortie as a technology demonstrator in 2001.
IAF will have two squardons of Tejas Mark I and four squardons of Tejas Mark II
Tejas will be part of the series production HAL has taken up to roll out the first 20 aircraft for IOC and another 20 for FOC.
Rs 25,000 cr
The estimated cost incurred in developing Tejas
30 The number of years it took to put together the Light Combat Aircraft
1,700 km The distance Tejas can fly non-stop