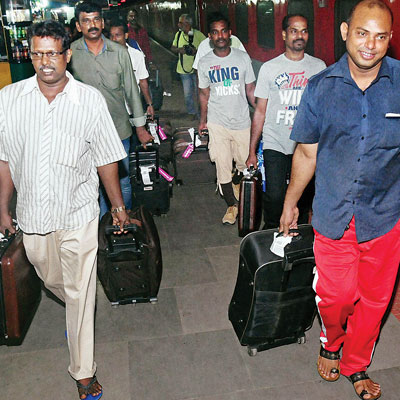 As situation in Iraq turns more fragile, India which had so far pinned its hopes on Saudi Arabia and Turkey to rescue its 39 citizens currently in the custody of Sunni fighters, is now turning to other regional players to seek and end to the humanitarian crisis. The fighters have taken control of a large swath of North Iraq.
Highly placed sources here said that national security adviser Ajit Doval may fly to Damascus in order to directly negotiate with key players to ensure safe release of Indian workers. Syria sources here say they were ready to work with Indian government to end the crisis. They maintain that they had better understanding of the Sunni militant outfit Islamic State of Iraq and the Levant (ISIL), who till recently were fighting along with Free Syrian Army, against the Bashar al Assad government. "We have understanding and intelligence related to many of these fighters, involved in the Iraq operation and possibility in the abduction of Indian workers," a Syrian source told dna. Besides Indians, nearly 80 Turkish citizens, including the Turkish consul general, have also been seized by invading ISIL units in Mosul.
Iraq crisis is appearing a first foreign policy challenge for prime minister Narendra Modi government. Those in the government know, it will be a handle in the hands of humbled opposition to beat it in the forthcoming Budget session of Parliament. Sources here said that the PM is being briefed by Doval, R&AW chief Alok Joshi and Intelligence Bureau director Syed Asif Ibrahim on a daily basis to achieve closure on the issue.
With the forthcoming Parliament session in mind, the government began a full-scale evacuation of all Indians. Over 600 Indians are expected to fly back to India over next few days. During past 24 hours, 94 Indian workers have returned and some 136 are also booked and may fly anytime. But there are many Indian refusing to return. So far 1000 Indian contacted by the ministry of external affairs officials have chosen to stay back. Sources here said the government has also sent two cargo ships to Basra to carry Indians to the nearest safe port, in case of any emergency. There are an estimated 10,000 Indian nationals in that country and around 150 in the zone of conflict. Out of which 50 have left.
MEA spokesman Syed Akbaruddin said Indian diplomats are seeking out Indian nationals at their homes and places of work in Iraq to deliver the message that they should leave. The MEA has dispatched over 25 officials to the key Iraq cities outside the conflict zone to facilitate the repatriation of Indian workers by helping them with documentation and air tickets.
While keeping three Air India planes as well as military transport aircraft and naval vessels on standby, the government is so far making use of the commercial flights that are still operating from Iraq's main cities — Najaf, Kerbala, Basra and Baghdad.