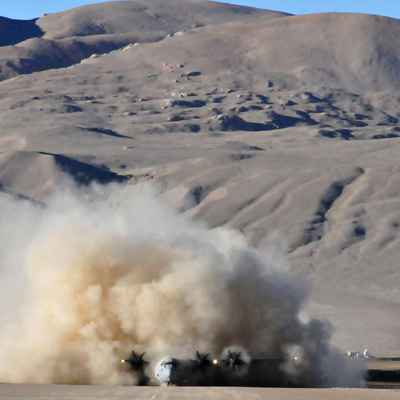 Indian Air force's C-130J Hercules aircraft crashed 75 miles away from Gwalior in Madhya Pradesh. The C-130J was a goods carrier that started its journey from Agra as per television reports.
Five army personnels who were on-board perished in the crash as per television reports.
These Hercules aircrafts are strategic transport aircrafts and were ordered by India, under a $1.2 billion contract signed in 2008 as part of the foreign military sale (FMS). The aircraft arrived in India in February 2011 and were unveiled at Bangalore's biennial air show Aero-India.
The fate of the crew is not yet known, IAF officials said.
"One C-130J aircraft crashed 72 miles (115 km) west of Gwalior air base. The aircraft was airborne from Agra at 1000 hours for a routine flying training mission. A Court of Inquiry has been ordered to investigate into the cause of the accident," an IAF spokesperson said here.
Police in Jaipur said senior officials, including Superintendent of Police, Karauli, have rushed to the spot of the crash along Rajasthan and Madhya Pradesh border.
India had recently inducted six C-130J Super Hercules aircraft, which were bought from the US at the cost of around Rs 6000 crore (USD 1.1 billion) four years ago.
The home base of the 77 squadron 'Veiled Vipers' operating the aircraft is Hindan in Ghaziabad near here.
The aircraft were recently landed on the Daulat Beg Oldie air field near China border and have helped in boosting IAF's capability to airlift troops closer to the borders in times of emergency.
Justifying the costing of these aircraft, vis-a-vis Canada, in parliament earlier, defence minister AK Antony had said the $962 million spent for the purchase include the cost of training, role and support equipment, spares, warranty and the US government's administrative charges. Moreover, he had said, in the absence of official information regarding the cost of the Canadian procurement, it was not possible to make appropriate comparative cost analysis.
The Indo-Russian deal for the FGFA will make India the largest operator of the super advanced aircraft in the world by 2022. The deal was ironed out in October 2008 by the inter-governmental commission on military technical cooperation (IRIGC-MTC) representatives, in Delhi.
Also read: India to buy 6 more C-130J 'Super Hercules' aircraft
in India: C-130 J Super Hercules military aircraft, bought from the US two years ago, crashes in Gwalior

— Khalid Khan™ (@khalidkhan787) March 28, 2014
@dna IAF offically confirms crash of its #C-130J aircraft 72 miles west of Gwalior. It took off from Agra on routine sortie. CoI ordered.
— Pradip R. Sagar (@pradiprsagar) March 28, 2014
With agency inputs