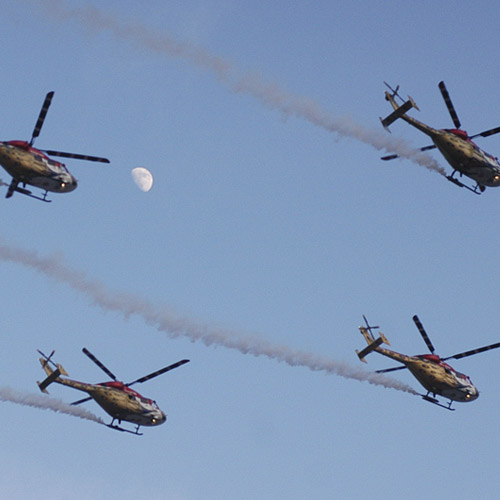 An Indian Air force chopper has reportedly crashed in Sitapur in Uttar Pradesh. Seven individuals are feared dead.
@dna #IAF chopper crashed in UP; seven on-board feared dead..

— Pradip R. Sagar (@pradiprsagar) July 25, 2014
Seven IAF personnel including two pilots died in a helicopter crash near Sitapur in Uttar Pradesh, about 90 km from state capital Lucknow minutes after it took off from Bareilly.
According to IAF, the Indian-made Advanced Light Helicopter (ALH) of the Air Force reportedly had seven people on board. "The Helicopter was airborne from Bareilly at 1653 hrs and was on a mission to Allahabad. The Pilot gave a 'may-day' (emergency) call and soon after that there was a loss of contact on radar and on radio,"IAF said in its official statement. "A total of seven air warriors including two pilots were on board. It is feared that there are no survivors. There is no reported damage on ground,"IAF further said. The court of inquiry has been ordered to establish cause of the accident by the IAF headquarters.
Earlier this year, MiG-21 fighter aircraft of the Indian Air Force (IAF) crashed in the Bijbehara region in the Anantnag district of Kashmir on May 27. The MiG-21, which was on a routine training sortie, crashed in the fields at Mirhama in Bijbehara. Defence sources have revealed that the pilot of MiG-21 was killed in the crash.
According to reports, the IAF has inducted over 900 MiG-21s in its fleet over a period of 40 years, half of which have been lost in different crashes.
Sameer Patil, associate fellow, national security, ethnic conflict and terrorism, at Gateway House, stresses that the problem of MiG-21 plane crashes has to be addressed and dealt with as quickly and efficiently as possible. He says, "The crash of an MiG-21 jet in Jammu and Kashmir's Anantnag district on May 27 morning is a stark reminder to India's new government about the need to address the problem of an ageing fleet and depleting combat strength of the Indian air force (IAF). There have been a series of accidents with the MiG-21 which has a terrible safety record and hence the bane of the IAF for a long time. While the IAF has begun phasing-out the MiG-21 planes, it will take another four years to complete this process. The replacement for the MiG jets is nowhere in sight as the previous UPA government vacillated on the crucial Medium Multi-Role Combat Aircraft (MMRCA) deal.