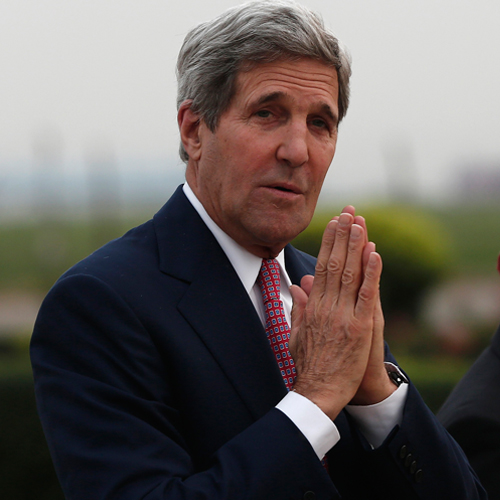 United States Secretary of State John Kerry has arrived in India today, and for the next couple of days, the media will keep its eyes glued on the high level political talks to be held between the two countries.
Kerry's meeting with External Affairs Minister Sushma Swaraj can be seen as a prologue to Narendra Modi's visit to the United States in October. The meeting is strategically important firstly due to the change in the government, and both the countries know that. India and US are important allies for each other, especially against the continuous rise of China in global politics as a formidable power.
Here are five things Kerry and Swaraj could be discussing about on Kerry's first official visit to India after the Narendra Modi government came to power:
1. Trade reforms and WTO: This is important and could be at the top of their discussions. India has backed out of signing the trade deal that the US claims could create 21 million jobs. India is ready to go for a global regime of trading only if there is a parallel deal on developing countries being given freehand in stockpiling food grains and subsidising food production and consumption. The US says India is being unreasonably stubborn as its backing out could mean the reforms being stalled for everybody for the time being. Kerry will speak to Swaraj about it, and India will have to stick to its stand if it wants fair deal for itself.
2. FDI in India: India and US are not just looking forward to be political partners but economic as well. This government has already made their commitment for bringing in more private investors, even foreign ones by raising foreign direct investment (FDI) cap for defence and insurance sector, and even allowing private investment in railways. It is likely that the United States will push for more opening up of the economy. But the government might not be in a hurry to open doors further.
3. Visas for Indian companies: If United States has its interest in India, even Indian companies have their own demands to make to the United States. While the US has been asking India to open up trade and opportunities for business, it has not been supportive while giving out visas to IT professionals, and even have imposed restrictions on offshoring IT projects by government departments. Its "Go Amercian" slogan pinches India, and India could be pushing for better and more favourable visa policies to start off with.
4. Climate change: Just days before coming to India, Kerry said in a speech that climate change was ruining India's growth prospects. Kerry said that the US could help India to build green transport and grids, and could help India control its emissions. A treaty on this is set to be signed in 2015 as well. Climate change, reflected in extreme weather conditions or climate extremes are visible in India today. However developing countries mostly hold a stance that they should not be asked to reduce emissions drastically as it would hamper their growth. It is rather the developed ones who must control emissions first and build the leeway for the developing nations to grow faster not worrying about any hurdles. Kerry and Swaraj surely will have talks on climate change policies the two countries will adopt.
5. International concerns: India and the US could look beyond their own economic and political ties and discuss the geopolitical concerns the world is facing. Both countries are seen as strong allies of Israel, and will be expected to discuss possibilities of peace in Gaza. Sanctions on Russia could be a part of the agenda as well, as both countries differ in terms of policies with Russia. While the US will stand by such sanctions, India would prefer to keep Russia as an ally and the Ukraine crisis could form a formidable part of the talks as well.
There are other issues like treating of bureaucrats (the case of Devyani Khobragade or the more uncomfortable issue of the visa rejections of Narendra Modi). But both the countries might decide not to bring up an unpleasant past and more towards renewed ties that are beneficial for both countries.