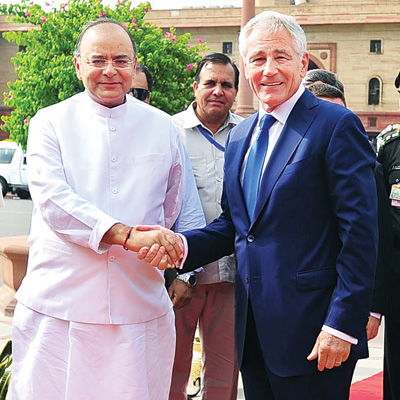 In a bid to boost defence trade with US, New Delhi on Friday accepted the long-pending demand of the US to appoint a point person for all defence-related matters. India and US also agreed to work closely in developing its indigenous military hardware manufacturing industry and go for joint production of equipment.
The US, as one of the biggest military hardware suppliers, has already sold equipment worth Rs 60,000 crore in the last 10 years to India but none of these weapon sales programme is about joint production or co-development and does not include transfer of technology.
At a delegation-level meeting between defence minister Arun Jaitley and his American counterpart Chuck Hagel in the south block, the two countries agreed to enhance their cooperation in joint production and development of defence equipment.
"With co-development and co-production of defence products in mind, India and the United States today agreed to take the Defence Technology and Trade Initiative forward. The contact person from the Indian side will be the Secretary, Department of Defence Production and the United States will be represented by the Under Secretary for Acquisition, Technology and Licensing at the Pentagon,"defence ministry said in its statement.
"The development of our own indigenous capabilities is a major objective that guides our present policies. In this direction, we have taken steps to raise the FDI cap in the defence sector. We look forward to work closely with the US in this regard," Jaitley repotedly told US delegation in the meeting.
India has raised the FDI cap in defence sector recently from 26 per cent to 49 per cent with an aim of boosting indigenous defence production. India imports almost 70 per cent of its defence needs
from foreign sources.
The US has been pushing defence deals with India worth over Rs 20,000 crore, including the sale of Apache attack choppers, Chinook heavylift helicopters and the Javelin anti-tank guided missiles.
During the meeting US also agreed to go ahead with Rs. 15,000 crore project to co-develop Javelin anti guided missiles for army's 382 infantry battalions by technology of transfer.