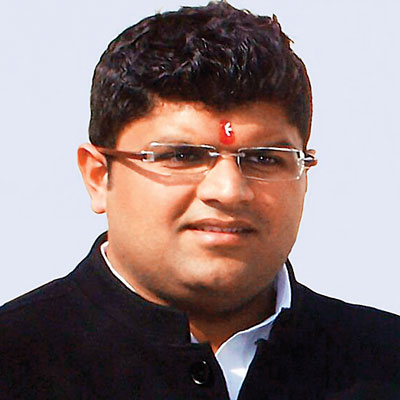 When the 26-year-old Dushyant Chautala, a bachelor of business administration from California University, decided to plunge into politics, it was not simply to take forward the dynastic rule in Haryana. It was rather a challenge as the Chautala family scion had to restore the family honour that had suffered a jolt after his grandfather and former Haryana chief minister Om Prakash Chautala was convicted in the JBT teacher scam in 2012.
Whether Dushyant, born on April 3, 1988, will be able to help his family regain some of its lost glory is yet to be seen but by winning Hisar constituency, he has indeed become the youngest member of parliament in the history of Indian democracy.
"Redemption of our lost prestige was the only thing in my mind. Victory against Kuldeep Bishnoi, one of biggest leaders in Haryana, indeed cemented our legacy as one of the most influential political clans in the state. My grandfather told me to contest from Hisar because he wanted me to defeat a big leader.
He told me that Kuldeep Bishnoi is the only big leader in this election who has a political legacy as good as ours. Defeating him will certainly make us regain our lost ground," said Dushyant, who defeated Bishnoi by a margin of 28,000 votes. Bishnoi is the son of late Bhajan Lal, the former chief minister and head of another political family.
"This is not the first time, any member of our family defeated a big leader," said Dushyant. "My great grandfather Chaudhary Devi Lal had defeated union minister, Balram Jakhar, whereas my grandfather defeated Chaudhary Birender Singh, the grandson of Chaudhary Chhotu Ram, one of founders of Haryana. My father had defeated Surender Singh, the son of Bansi Lal," said Dushayant while announcing himself as the political heir of Chautala clan.
Unlike his family members, including his father and brothers, Dushyant speaks fluent English.
Given his global exposure and educational background, Dushyant has big plans for his constituency. He wants Hisar to be developed on the lines of Jaipur, another city apart from Hisar and Ambala, designated as counter magnetic city (CMC) by the Centre.
"Hisar was declared CMC along with Jaipur and Ambala in 2010. But till now Hisar hasn't seen any development while Jaipur has been given many projects such as Metro rail along with many industrial corridors. My first priority would be to make Hisar a CMC beneficiary," said the Chautala junior.
Apart from CMC, Dushayant talks about welfare of farmers and sports facilities for youth. "Water and fertiliser have become dearer and beyond the reach of farmers, and I want to ensure that they have an easy access to these items. Haryana has made its mark in sports, and as an MP, I would try to get sports infrastructure for people of my constituency," said Dushyant.
Asked about the possibility of his party, Indian National Lok Dal, aligning with the BJP in the forthcoming assembly elections in the state, Dushyant declined any possibility of an alliance.
"Today, we met Rajnath Singhji and congratulated him for his party's superb victory. We will give an unconditional support to BJP at the Centre but as far as alliance for the assembly elections is concerned, we won't form any alliance and will contest all 90 seats," said Dushyant.