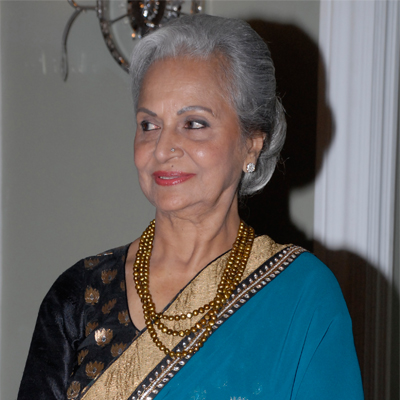 Veteran actress Waheeda Rehman has always maintained a strict distance from politics, by her own admission, but the ongoing Lok Sabha elctions leave no Indian unaffected.
She remarked that the next prime minister of India should hold secular values. In an exclusive interview to dna, she said, "Irrespective of who becomes prime minister, he must ensure that we hold on to the secular values on which this nation was created. We're one of the best countries with a lot going for it. This mustn't be squandered in the politics of divisiveness."
She stressed on the importance of having a secular leader in today's times by further explaining,"There is far too much stereotyping on the basis of communities, caste and religion. This will only foster hate. Many also use these labels to seek reservations and votes."
On being quizzed if she supports reservations for certain castes, she said "We need to start treating people equally as Indian citizens. This pandering to people with reservations in the name of minorities and castes should stop. It can only further hatred among youngsters who may not even be aware of such dividing lines."
She also said that she has been offered to join the Rajya Sabha but she has refused it until now, saying it just wasn't her thing.