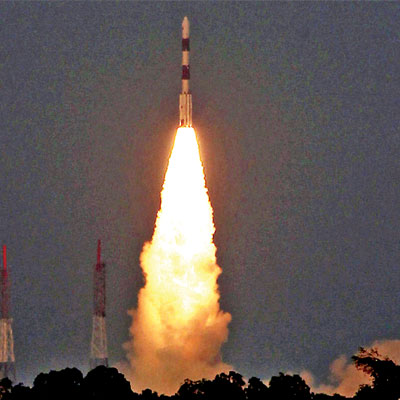 India on Friday got a step closer to realising its dream of having its own Global Positioning System (GPS) equivalent by successfully launching the second dedicated navigation satellite, Indian Regional Navigation Satellite System (IRNSS-1B), from the Satish Dhawan Space Centre in Sriharikota.
The IRNSS-1B lanched by the PSLV was injected into the intended orbiter after 19 minutes into the flight. IRNSS-1B is one of the seven satellites constituting the IRNSS space segment. Its predecessor,
IRNSS-1A, was launched in July 2013.
IRNSS is an independent regional navigation satellite system designed to provide position information in the Indian region and 1,500km around the Indian mainland. IRNSS would provide two types of services, namely, Standard Positioning Services (SPS) - provided to all users - and Restricted Services (RS) - provided only to authorised users (military).
The IRNSS System is expected to provide a position accuracy of better than 20m in the primary service area. So far, only five countries have their own satellite navigation system -- US, Russia, China, Japan and the European Space Consortium.
Currently in India, users rely on the US's GPS for navigation and other purposes. By launching four of the seven satellites, India start operations of the IRNSS. The entire IRNSS constellation of seven
satellites is planned to completed by mid 2015, said Isro chairman K Radhakrishnan after the launch on Friday.
When asked about the space agency's plan to send 'Aditya' satellite around the Earth to study the Sun, he said work was progressing in that mission and the launch was expected in three to four years.
Aditya would study the corona emissions of the Sun and help space scientists in understanding the head of the Solar System.
ISRO, which successfully launched a GSLV with indigenous cryogenic engine, would conduct an experimental launch of GSLV Mark III in June this year, Radhakrishnan said.