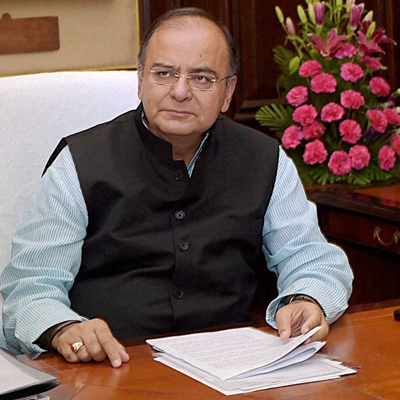 While delivering his maiden budget speech in Parliament today, Finance Minister Arun Jaitley said that India has a strong urge to grow and free itself from the curse of poverty. "The people are in no mood to suffer unemployment, inadequate basic amenities, lack of infrastructure and apathetic governance. The Indian economy will have to maneuver its way through a sluggish global recovery," said Jaitley.
Jaitley said that the government intends to usher in a policy regime that would bring the desired growth, lower inflation, sustained level of external sector balance and prudent policy stance. The Finance Minister pointed out that the present economic situation presents a challenge of slow growth in manufacturing, in infrastructure and also the need to introduce fiscal prudence. The tax to GDP ratio must be improved and non-tax revenues increased. He has set a target of fiscal deficit of 3.6% for 2015-16 and 3% for 2016-17.
Jaitley said that the government will constitute an Expenditure Management Commission to look into every aspect of expenditure reform. The government also intends to overhaul the subsidy regime while providing full protection to the marginalized. The Finance Minister also said that the government would like to introduce Goods and Services Tax (GST) to streamline the tax administration, avoid harassment of business and ensure higher revenue collection.
Jaitley further said that the Indian Government will promote FDI selectively in sectors. FDI in Defence and Insurance sector is being raised to 49% with full Indian management and control. FDI is also being encouraged in the development of `Smart Cities'. To infuse Rs. 2,40,000 crore in the Indian Banking system, citizens of India will be allowed direct share holding in these banks. The government will also provide tax incentives for real estate investment trusts. A similar incentive will also be announced for Infrastructure Investment Trusts.
A national multi-skill programme called Skill India is proposed to be launched. This will provide training in traditional professions like welding and carpentry etc. A sum of Rupees 1,000 crore will be provided to Pradhan Mantri Krishi Sinchayee Yojana to provide assured irrigation in rain fed areas. Earlier today, Jaitley presented his maiden General Budget for the year 2014-15 with the permission of Lok Sabha Speaker Sumitra Mahajan at 11 am.