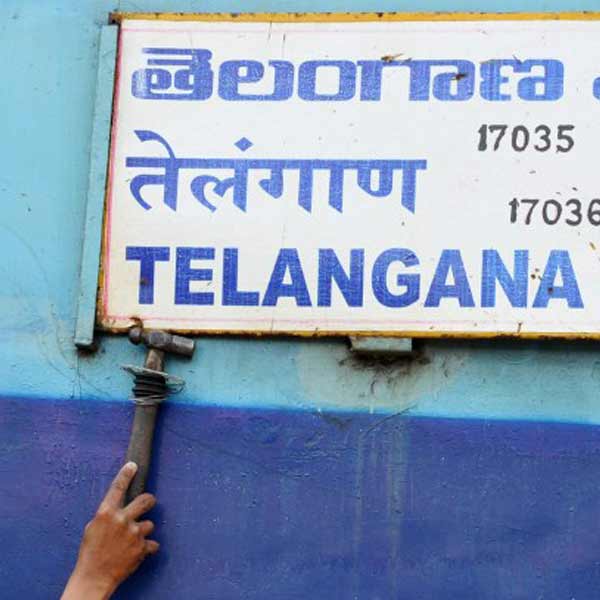 K Chandrasekhara Rao was sworn in as Telangana's first chief minister on Monday morning as India gained its newest state. His swearing in was followed by his cabinet of ministers taking oath as well.
Carved out of the state of Andhra Pradesh, Telangana is India's 29th state. On Monday, Andhra Pradesh Governor ESL Narasimhan took oath as the governor of Telangana.
A notification was issued early on Monday revoking President's rule in Telangana to facilitate Rao in taking charge as the first chief minister of the state.
How Telangana was formed: A timeline of events leading to the formation of India's 29th state
There are no barbed wires and road blocks at either the assembly or the secretariat and Raj Bhavan which were quite visible for over three years. Instead they have been replaced with pink flags, hoardings, festoons and flexis all over the Nizam's town on the occasion of the birth of a new state. At the strike of midnight on Sunday, the 29th state of Indian Union, Telangana, was born after almost 60 years of unhappy merger with the Andhra state in 1956 and following a long struggle for separation from that mismatched union.
About 300 people have reportedly been killed after the agitation for the separate state took the shape of a movement in 1969.
Enthusiastic Telangana Rashtra Samithi (TRS) workers and Telangana admirers commenced festivities across the thoroughfares and colonies raising slogan 'Jai Telangana' on Sunday.
The TRS headquarters in Banjara Hills has become a beehive of activity, with party leaders and workers busy in activities related to government formation. Special celebrations were on the cards at Osmania University from where two student leaders have made it to the parliament and the state assembly.
TRS chief K Chandrasekhar Rao will be sworn in as the chief minister of Telangana on Monday after the President's rule is lifted, paving the way for the new government to take charge. TRS had won 63 of the 119 assembly seats in Telangana in the just-concluded assembly elections that were held in conjunction with the general elections.
Interestingly, before Rao takes oath as chief minister of Telangana, Andhra Pradesh governor ESL Narasimhan, who has been given additional charge of Telangana, will himself have to take the oath.
The President's rule, however, will remain imposed for about a week in Andhra region as Telugu Desam Party chief Chandrababu Naidu would take charge as chief minister a week later, possibly on June 8. TDP, along with its ally the BJP, had cornered 106 of the 175 assembly seats in Andhra region in the recent elections.
At midnight today all the political players of Telangana like TRS, Congress, BJP and TDP will visit the Telangana martyrs memorial at Secretariat and pay flowery tributes .TRS planned a display of crackers , dancers and festivities at both Necklace Road and also Tankbund. TRS chief's daughter Kavitha, MP from Nizamabad who once led the Million march which ended in demolition of andhra leaders statues at Tankbund will now lead the cultural programs.
In all 31 IPS and 41 IAS officers have been officially nominated to the Telangana cadre of the all-India service. The chief secretary PK Mohanty made a last review of all arrangements for division of assets
and employees as advised by the governor.
The chief secretary also issued orders to 9,893 state government employees to continue functioning in Telangana as per the 'order to serve' clause to temporarily maintain administration in Telangana. They include 8,601 HoDs in districts, 1,164 in secretariat and 128 in the state assembly.
YEAR HAPPENING
1948 Indian Army annexes princely state of Hyderabad which comprised different regions including Telangana
November 1, 1956 The government of India decides to merge Andhra and Telangana and form Andhra Pradesh
January 1969 The call for a separate Telangana intensified with the Jai Telangana Movement in which students of the Osmania University protest
2001 K Chandrashekhar Rao forms Telangana Rashtra Samithi (TRS) with the single-point agenda to seperate Telangana from Andhra Pradesh
November 29, 2009 K Chandrashekhar Rao goes on a fast unto death demanding a separate state of Telangana and compensation of Rs 10 Lakh to the kin of the dead in Telangana.
December 9, 2009 Union Home Minister P Chidambaram announces that the government would start the process for the formation of Telangana state
December 23, 2009 Due to protests in Coastal Andhra and Rayalseema, the decision put on hold
July 30, 2013 The UPA coordination panel and Congress Working Committee decide to carve out Telangana state
February 18, 2014 Lok Sabha passes Andhra Pradesh Reorganisation Bill 2014 by voice vote
Data compiled by DNA Research and Archives