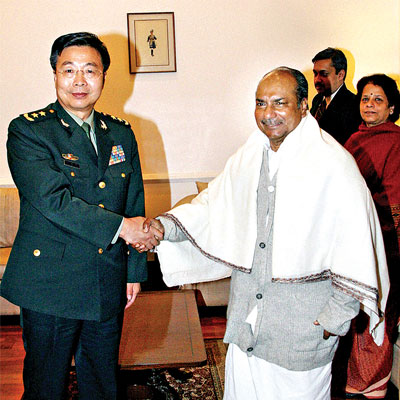 India and China on Monday agreed on a slew of measures, including holding of joint Army exercise this year and strengthening maritime security cooperation while maintaining peace and tranquility on the dispute border.
At the 6th annual defence dialogue here, the two sides discussed increasing the number of interactions between them at multiple levels along with the setting up of hotlines between the two Armies at brigade, corps and command levels along with a similar setup at their respective Army headquarters.
Deputy chief of China's People's Liberation Army (PLA) Lt General Wang Guanzhong met the defence secretary RK Mathur for the defence dialogue in the South Block, which houses the ministry of defence.
During the meeting, which lasted for two hours, both sides decided on a number of measures for exchanges and interactions between their militaries in 2014. The defence ministry said both sides have agreed to have hotline at the Brigade-level, instead of Director General Military Operation (DGMO), as there is no DGMO-level rank officer in the PLA.
The talks covered taking steps to increase confidence building measures between the two forces in the light of the signing of the Border Defence Cooperation Agreement last year to avoid repetition of incursions by Chinese troops in the Depsang Valley in Ladakh region.
"India, China agreed to hold border personnel meetings at places other than existing three locations. Also, issues like tailing of each other patrol vehicle and holding military exercises at tactical level on border was discussed," said a senior ministry of defence official. At present, three places are earmarked for Border Personnel Meetings for flag meeting i.e Chishul (Leh), Nathula (Sikkim) and Boomla (Arunachal Pradesh). Indian side believed to have proposed two more site for flag meeting.
Other agreed measures include strengthening of maritime security cooperation between navies, officer exchanges and professional interactions at various levels of all services and exchanges in the areas of peacekeeping, counter terrorism and humanitarian assistance and disaster relief.
"Year 2014 has been designated as the year of friendly exchanges between the two sides to foster mutual trust and understanding between the two miliary," the officer added.
Last year, there were over 150 incidents of incursions and face-off between the two armies while patrolling. In April, a PLA platoon level patrol team intruded 18 km into Indian territory in DBO in Ladakh.