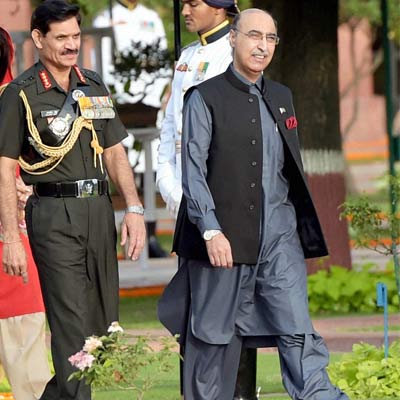 India on Monday called off foreign secretary level talks with Pakistan which were scheduled to be held on August 25 in Islamabad. The Indian government had said that it was calling off the talks in the wake of Kashmiri separatist leaders being invited to the Pakistan High Commission to meet with High Commissioner Abdul Basit.
The Pakistan envoy met one of the separatist leaders Shabir Shah this afternoon. The Indian government tersely said that it was seeing these meetings as a direct interference in India's internal affairs, which it could not accept. Earlier today, Shah during his meeting at the Pak-High Commission had expressed a need to hold trilateral talks between India, Pakistan and the representatives of Kashmir.
Official Spokesperson of Ministry of External Affairs Syed Akbaruddin also tweeted that the foreign secretary's visit to Pakistan has been cancelled.
Foreign Secretary's visit to Pakistan cancelled http://t.co/K8itH83SX8

— Syed Akbaruddin (@MEAIndia) August 18, 2014
It is reported that the Indian Foreign Secretary Sujatha Singh informed Pakistan High Commissioner that her talks with Pakistan counterpart on August 25 in Islamabad now stand cancelled.
Talking to scribes over the matter, Akbaruddin, said, "At a time when serious initiative was taken to take bilateral ties forward, invite to Hurriyat leaders raises questions about Pak's sincerity." "Pak High Commissioner's meeting with so called Hurriyat leaders undermined the constructive diplomatic arrangements made by PM Modi," the MEA spokesperson added.
ALSO READ
Pakistan irks India again, invites Kashmiri separatists for talks
Pakistan has again touched India's raw nerve by inviting separatists for consultations in New Delhi ahead of foreign secretary-level talks between the two countries. Pakistani high commissioner to India Abdul Basit has invited several separatists, including Hurriyat hawk Syed Ali Shah Geelani, moderate leader Mirwaiz Umar Farooq, leader of a breakaway faction of Hurriyat leader Shabir Shah and pro-independence JKLF chairman Mohammad Yasin Malik for holding separate talks in the national capital. Read more
Indo-Pakistan bilateral talks cannot resolve Kashmir issue: separatist leader Shabir Ahmad Shah
Senior separatist leader Shabir Ahmad Shah today welcomed the upcoming Indo-Pakistan Foreign Secretary level talks but maintained that bilateral dialogue between the two countries would not resolve the Kashmir issue as people of the state were principle party to the dispute. "We welcome the talks between India and Pakistan but bilateral talks cannot resolve Kashmir issue as we have seen that such initiatives always ended in failure over the past six decades," Shah told PTI. Read more
Subramanian Swamy slams Pakistan's High Commissioner
BJP leader Subramanian Swamy has slammed the Pakistan High Commissioner Abdul Basit's calling separatist leaders from Kashmir, calling it "mischievous". Speaking to ANI, he said, "Normally in diplomatic situations there is no bar to embassies inviting Indian citizens for lunches and dinners, but here they have invited people who don't believe in the Indian constitution or integrity. That is mischievous." Read more
(With agency inputs)