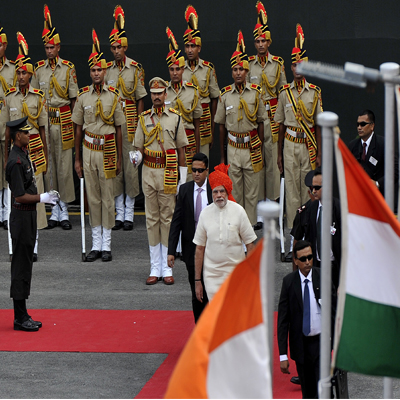 Prime Minister Narendra Modi's first Independence Day speech highlighted the extremes that India represents. We don't have toilets for women, garbage collection is a national issue, but indeed, we are a country that's significantly wired into the digital revolution. And in big numbers.
One figure estimates India will have 500 million internet users by 2018, perhaps even surpassing the United States. And so, having a digital vision is important, as it can be a springboard for much of aspirational India. Let's not confuse thoughts of a digital India with the use of Facebook and Twitter alone. It's about e-governance. Interestingly, an internet-savvy India rising side by side, will only progress the country's efforts in removing corruption and building basic civic infrastructure. Modi's speech touched upon tele-medicine, e-education, mobile governance - all of which are efforts with the times given how smart-phone confident our country is.
As one of India's most twitter-savvy politicians, Modi championed the use of social media to communicate with people during his campaign. In his government, he has used it for inter-departmental coordination and for announcing new measures. He has also asked his ministers to use tech tools for more effective functioning.
Modi's new initiatives include a less written about platform called MyGov launched recently to engage with citizens and involve them in the running of the country. Through the platform, the prime minister is throwing an open invite for people to share ideas, which don't usually find their way into government departments and just float in cyberspace. The thinking appears to be that crowdsourcing ideas in an open shared platform will help understand how people perceive problems and their solutions. MyGov has launched some initial groups such as Job Creation, Digital India, Clean India etc on which ideas are being sought, while citizens are also being asked to volunteer for on ground tasks which can help take an important step towards achieving small goals, one at a time. Modi talked about selfless contribution by people to fix India's civic problems. MyGov is aiming to be a national engagement platform where people can exchange ideas and best practices to arrive at a mutually meaningful solution. It's an effort to use digital means to change the ground realities. If one were to believe Mr Modi, then MyGov can be a single window for generating ideas and mobilising Indians towards well-defined goals and targets.
Let's pick basic services. In India, people have to queue up, if not use touts, and pay bribes to get birth or death certificates from municipal bodies. Though the data is already electronic and on computers, it is not available to citizens, who must arrive at this office for a print out and a signature of a government notary. Why should this be the case? Why can't I take a print out or just as many as I would like of birth or death certificates by just logging on? Renewing or applying for your license, passport, university certificate can all be online, end to end. No matter how poor or rich, people will do anything to escape long lines, stuffy government offices and cheats.
Even as India embraces digital platforms to grow online infrastructure, where one doubts the PM's thoughts are when he speaks of manufacturing electronic or digital goods. We should do what we are good at. The Chinese are brilliant with producing products and it will be a while before India can notch up to that scale and speed. Why not make use of existing options as a means to achieve the greater goal of a 'digitally unified' India? This doesn't take away the larger goal of setting up large scale manufacturing units under his larger vision of Make In India, Made in India. But shouldn't those resources be devoted to areas where we are good at or where we can achieve leadership in a short period of time? Could we create opportunities in innovation, digital services and more?
People need to embrace the PM's digital vision as their own because so long they treat it as Modi's initiative, it will not pick up momentum. It has the power to change. Digital dignity is an idea that brings equality of access to all. Just like it has in developed economies like America and Britian. Using digital means is a great tool of participatory democracy and India should embrace the change it brings.
'No snake charmers or black magic, we are digital India,' says Modi and who would want to disagree with that.