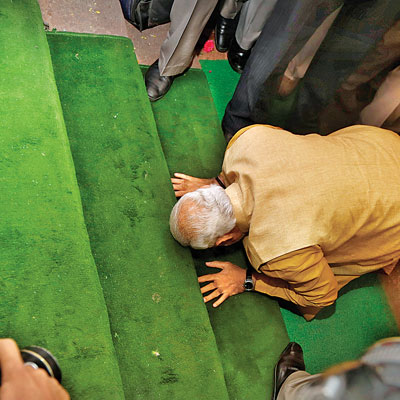 Narendra Modi's voice cracked, he sipped water and bowed his head briefly before regaining his composure as he got emotional over senior BJP leader LK Advani's words.
"Advaniji said Narendra Bhai has done us a favour. Please don't use the word kripa (favour). A son doesn't do a favour to his mother. A son works with dedication. Just as India is my mother, so is the BJP. The party has done me a favour by giving me an opportunity to serve," the Prime Minister designate said while addressing his party MPs, chief ministers and other leaders in the Parliament's historic Central Hall.
There was silence in the emotional moment.
Tuesday's visit was the 63-year-old Modi's first one to the magnificent Central Hall and, with modesty, Modi recalled his humble beginnings. Modi prostrated, as he would while entering a temple, at the entrance to the Parliament. "We are here in the temple of democracy. We will work with all purity... not for the designation, but for the people of the country. Work and responsibility are the biggest things," he told the gathering later.
Modi, who was unanimously elected as leader of the BJP parliamentary party amid thundering applause, pledged his government's commitment to the poor. "At the end of it, who is the government for... The government should think of the poor, hear the poor and live for them." he said.
Modi, who began by saying that if Atal Bihari Vajpayee was present it would have been the "icing on the cake" ended by saying that he would strive to fulfill the responsibility and faith reposed in him.
He promised to fulfill dreams, keep his word of "sab ka saath sab ka vikas (with all, and development for all)" and spoke of optimism.
Modi's speech was mostly an echo of the ones he made during his eight-month long election campaign. But his audience was different this time — from nine-time MPs to first-timers, which includes Modi himself.
"It was said I was here (in Parliament) for the first time, this keeps happening to me. I saw the (Gujarat) Vidhan Sabha after I became the chief minister," said Modi.
With a portrait of Mahatma Gandhi just behind him in the Central Hall, Modi sat to the right of BJP chief Rajnath Singh, on whose left side was Advani. "We did not have the good fortune of fighting for India's independence — we could not die for the country but we have been given an opportunity to live for this country," he said.
It was Advani who proposed Modi's name, which was then backed by several leaders, including Murli Manohar Joshi, Sushma Swaraj, Arun Jaitley, Venkaiah Naidu and Nitin Gadkari, sending a message that there are no fissures in the party. Modi and BJP also let in leaders of 29 allies to be a part of what was essentially a BJP affair, making it clear that in the moment of victory, it respected its allies and would like to run an inclusive government.
So, there was Shiv Sena chief Uddhav Thackeray, Akali Dal leader and Punjab chief minister Prakash Singh Badal and Telugu Desam Party leader N. Chandrababu Naidu who spoke on the occasion. Modi, who is to take oath on May 26, later met President Pranab Mukherjee minutes after his party staked to form government.
Advani said Modi was a "popular" and "famous" leader and he was happy to propose his name and mentioned the fact that the historic Central Hall was the venue of the Constituent Assembly, which debated and framed the Constitution. He also drove home the point for the BJP that there was the picture of Mahatma Gandhi at one and that Vinayak Damodar Savarkar, the Hindutva ideologue at the other end. "I think Modi has a sense of occasion, time and place.... The way he thanked had institutional and personal touch," said sociologist Shiv Vishwanathan.