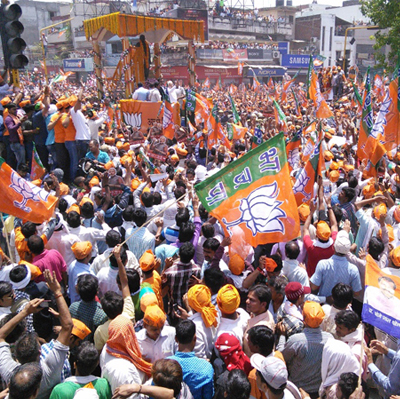 Call it a quirk of fate or political inevitability of times, but main contestants in the fray from the very birthplace of Mahatma Gandhi in Gujarat have a string of criminal cases against them and are leaving no stone unturned to ensure each other's defeat in polls.
Sitting BJP MP Vitthal Radadia is locked in a fierce contest with NCP candidate Kandhal Jadeja, son of "godmother" late Santokben Jadeja who once headed an underworld enterprise. Both Radadia and Jadeja, who is the sitting NCP MLA from Kutiyana constituency, have a number of cases pending against them including those of serious crimes.
Radadia had won the seat on Congress ticket in 2009, but switched his loyalty to BJP ahead of the 2012 Assembly elections. He was re-elected as an MP in the bypoll held subsequently. Radadia had hit the headlines when he pointed a gun at employees of a toll booth when asked to pay the road tax, when he was a Congress MP. The seat went to NCP as part of arrangement between the alliance partners Congress and NCP.
Of the total 15.23 lakh voters in this constituency, 4.20 lakh are Patel votes, while 1.25 lakh voters belonged to Mer community. While Radadia is a Patel, Jadeja belonged to Mer community. To undercut Jadeja's influence in his community, BJP has made their sitting MLA from Porbandar Babu Bokhiria the incharge of the seat, who is considered to be another strongman in that area. Bokhiria was convicted by a court in a land mining case but a higher court has stayed the order of the lower court. This leaves Jadeja in fight against virtually two candidates--the other being Bokhiria.
Out of the seven assembly segments, Porbandar, Kutiyana and Manavadar have decisive Mer population, while seats like Gondal, Jetpur, Dhoraji and Keshod have sizable population of Patels. In the 2012 Assembly polls, BJP had won five seats, including Porbandar City, Gondal, Jetpur, Dhoraji and Keshod while NCP and Congress won Kutiyana and Manavadar seats respectively.
However, BJP, which is eyeing whitewash by winning all 26 seats in the state, does not see this as a contest between Jadeja and Radadiya.
"BJP is convinced that the party will win Porbandar Lok Sabha seat as Congress has already surrendered by not fielding a candidate and instead fielding a NCP nominee from here, but we are not leaving anything to chance," said BJP's district unit president Vijay Thanki.
Kandhal is a greenhorn who cannot survive against BJP's Radadiya, he said. When asked about the projection of Bokhiria along with Radadiya, he said, "Bokhiria is incharge of this seat and besides that we consider him as a 'Modi of Porbandar'. So, to encash his popularity we have strategised to take his help as well". He said BJP believed in taking all castes together and sure of getting everybody's support.
"There are 15.31 lakh voters in Porbandar Lok Sabha seat which include more than 4 lakh Patel votes and more than 1.25 lakh Mer votes, so we are eyeing all the votes," Thanki said.
Radadiya, during his campaign at Vanthali village in Porbanadar, did not deny of taking Bokhiria's support. "He is the state minister and if he gives support to make Narendra Modi PM, it will ultimately help our party," he had said. On the criminal background of both the candidates, Radadiya said, "All the cases against me are politically motivated, there is no case of IPC 307 against me. While NCP's candidate has been facing severe criminal charges".
Congress district president and Jadeja's campaign strategist Jeet Agath accused BJP of playing the caste-based politics. "NCP and 'Bhai' (Kandhal jadeja) are focussing on welfare issues, but they (BJP) are trying to lure voters on the basis of caste," Agath said while hitting out at the BJP candidate. A keen contest is on the cards in the Lok Sabha seat with 14 candidates in the fray, including AAP' Mansukh Dhokai.
The seat goes to polls on April 30.