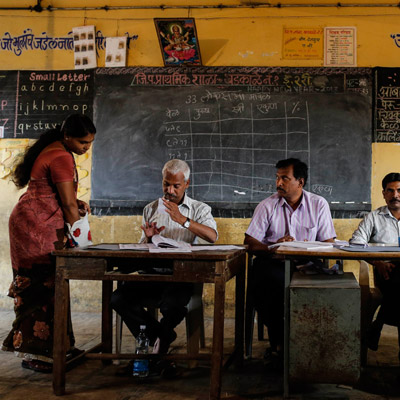 Voters hunt for their booth numbers
Patna: Voters in the capital city for 2 seats at Pataliputra and Patna Saheb faced difficulties casting their votes on Thursday. Many voters were seen hunting for their booth numbers at various voting booths, primarily because of not having their voter slips. Also, many voters' booth numbers were changed and the update did not reach them, leading to a drop in the enthusiasm of the voters. Many frustrated voters returned home without casting their votes.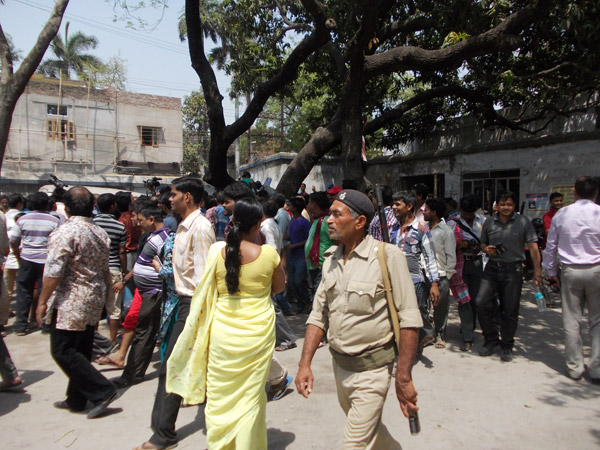 33% voting in Patna till 2pm
Patna: In the second phase of the Lok Sabha Elections in Bihar, voting is on for 7 seats including the capital city. Voting began at 7 AM, and 335 voter turnout was witnessed till 2 PM. The figures were 34% in Patna Saheb, 36% in Jahanabad, and 34% in Nalanda. Voting is expected to increase in the latter half of the day, especially towards the end of the voting day at 6 PM.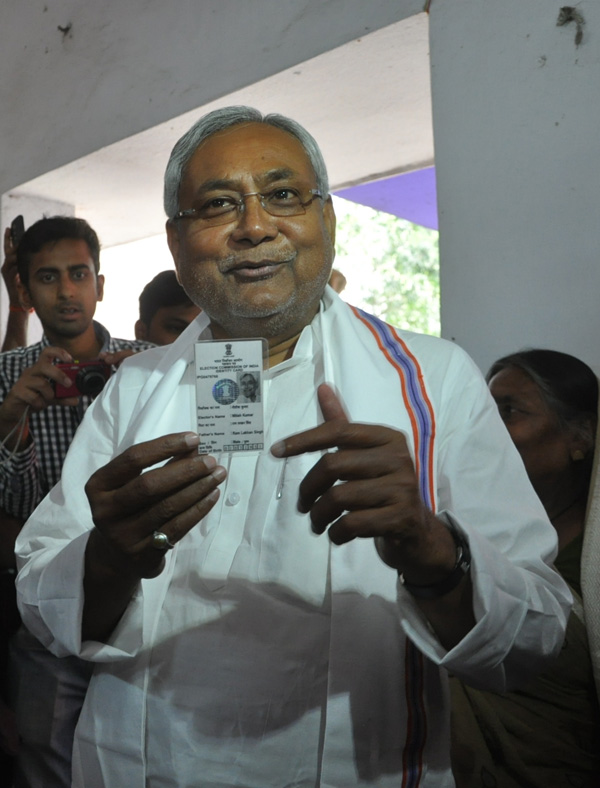 Voter ID cards and voting slips mismatch, problems on the rise!
Bihar: One mistake of the election commission and several voters had to face problems casting their votes for the 7 seats being fought for in Bihar. Many voters had a mismatch in their voter ID cards and voting slips in their names, father's/husband's names, pictures, addresses, etc despite furnishing the right details at the time of application. Shivam, a voter at booth number 159 at PC Colony in Kakadbagh, said that he could not find his name on the voters' list and had also not received the voters' slip. He was asked to check at another booth. "All this creates more problems for us voters", he said.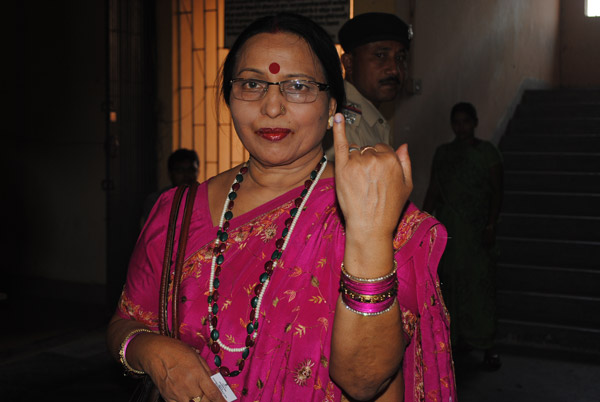 Security arrangements at voting booths: Thumbs up!
Bihar: Despite all the problems faced by the voters, the security arrangements at several polling booths were very good. There were special arrangements for women and senior citizens, who rocked the voting with their presence. There were also shades to avoid the sun.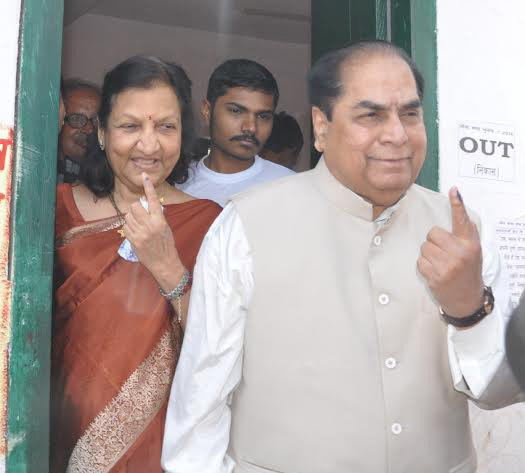 BJP candidate Shatrughan Sinha casts vote
Patna: Patna Saheb candidate from BJP and yesteryear bollywood actor Shatrughan Sinha cast his vote in the St. Sevrins School booth number 295. He seemed quite happy having cast his vote and showed-off his inked finger in his filmy style. When asked by the journalists about JDU and chief minister Nitish Kumar, he laughingly replied in his famous filmy dialogue "Khaamosh" and left.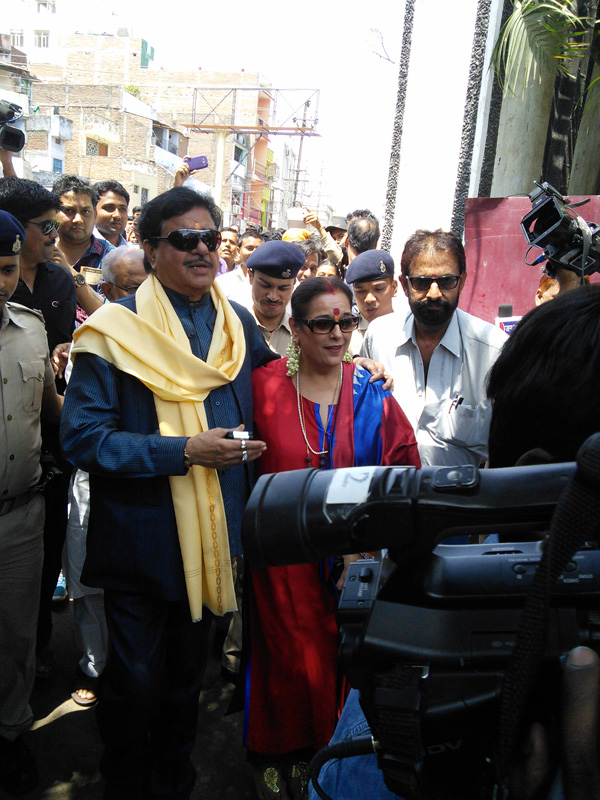 More than 300 lotuses will bloom in the Parliament: Shatrughan Sinha
Patna: BJP's Lok Sabha candidate from Patna Saheb Shatrughan Sinha is confident that BJP would have more than 300 seats in the parliament. Casting his vote with his wife Poonam Sinha at the St. Sevrins School booth number 295, he said that all over the country and in Bihar the voting process is going on pretty smoothly. "People are voting with all their heart", he remarked. When questioned about BJP's victory this time, he said that he can see more than 300 lotuses blooming in the parliament. While his wife said that she was mighty impressed by the way people are exercising their right to vote.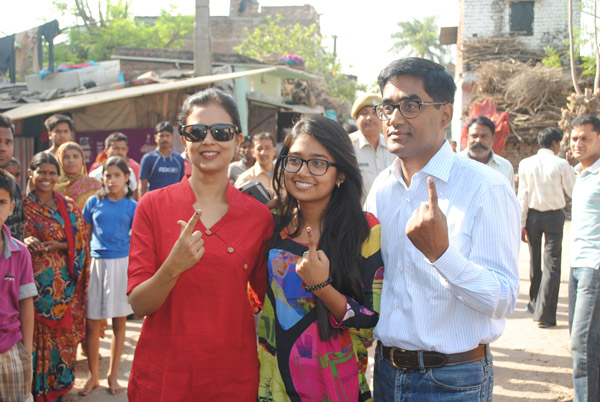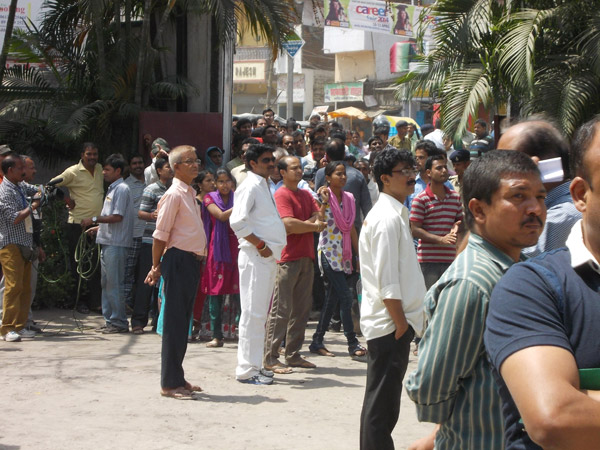 (Utkarsh SIngh is a reporter with Iamin.in - India's hyperlocal news network)