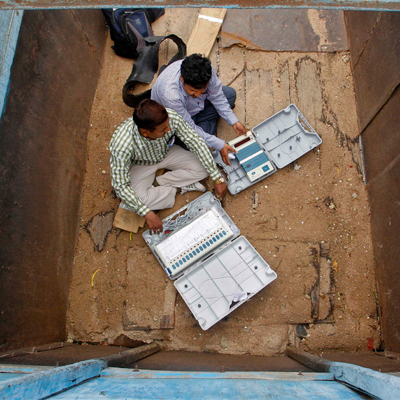 After all the drama has ended, the finer details of what was arguably the world's largest and mind boggling elections have finally been revealed by the Election Commission of India.
Below are the details:
The Election Commission will soon call on the President Pranab Mukherjee on Sunday evening and submit the list of new Lok Sabha members. The EC claimed their website got a totally of over 45 crore hits on vote counting day, the highest number of hits on an Indian website on a single day. In comparison, during the 2009 elections, the EC website had crashed just minutes after counting had started, unable to sustain the excessive hits of those who wanted details of the results!
The EC gave credit to their website being able to withstand this heavy onslaught to the dedicated human chain of IT experts at Nirvachan Sadan and the State Election Commission Offices who made it possible. Starting 6 AM on May 16, the entire team was active in each state and EC headquarters. Stayed put till 6 PM Saturday uploading all results. The mamoth exercise required the coordination of election officials at 989 counting centres which handled 1,029,000 EVMs.
To assist the EC, nearly 6,69,000 poll officials were put to work, along with 8,00,000 paramilitary forces who were deployed and rotated 9 times across the country in 9 phases. The railways dedicated over 570 special trains for election duty to rotate the troops across these 9 phases of elections, and saw to it the troops arrived and left on time for each of these phases.
The EC made use of 50 choppers for poll duty that made a total of 1500 sorties across the width and length of India. The Election Commission is rather happy with the fact that the percentage of women voters went up from 55% to 65% and urban apathy towards the elections was eliminated. Voting in mega cities and urban areas was up significantly by between 13% and 20%. Special campaign for voter registration on election eve recorded 82 lakh enrollment forms
The EC also claimed 16,00 FIRs filed, 3000 notices of paid news were made of which 700 confirmed. The EC deployed 21,000 teams for expenditure management. 667 expenditure observers were deployed across constituencies. The EC seized cash of Rs 313 crore, 2.2 crore litres of alcohol valued at over Rs 1000 crores and 1.85 lakh kilos of drugs in the run up to the elections.
(With inputs from PTI)